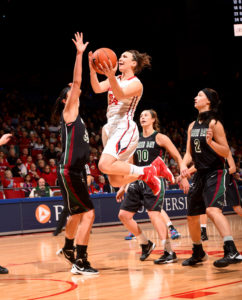 Another win for the suddenly surging Bonnies, GW's frontcourt (nuff said), a Senior Day victory at Hagan Arena, and Stipanorific victory in front of 7K made up an exciting Saturday in #A10WBB. On Sunday, a Play4Kay victory, an "I should start performance" for the Dukes, and a Senior Day blowout at UD Arena made up an interesting afternoon in #A10WBB.
Compiled by Matthew Fidurko (@Durko33Matt)
Sunday's Results:
VCU 65, Massachusetts 43
On Play4Kay Day inside the Siegel Center sophomore Chadarryl Clay poured in a career-high 20 points to guide the Rams to the 22-point victory over the Minutewoman. VCU's defense was a huge key to their victory, holding UMass to just over 35 percent shooting and forcing 17 turnovers.
Duquesne 60, Rhode Island 50
A bunch of stat-sheet stuffers and Emilie Gronas' 20 bench points guided the Dukes to victory Sunday afternoon. For Rhode Island freshman sensation Charise Wilson, who fouled out, would be held to 11 points, however, Samantha Tabakman recorded a double-double for Rhody in the loss, 18 points and 10 rebounds.

Video courtesy of Duquesne Athletics. 
Dayton 91, La Salle 43
It was Senior Day at UD Arena as the Flyer faithful said farewell to two of the most important players in the program's history, Andrea Hoover and Ally Malott. Malott nearly recorded a double-double pouring in 20 points and adding nine rebounds, while Hoover added 11 points.

Video courtesy of Dayton Athletics.
Saturday's Results:
St. Bonaventure 72, Davidson 56
It was Senior Day inside the Reilly Center and for the second straight season the Bonnies only said goodbye to one member of their program, Ashley Zahn (the only remaining remember of the 2011-12 Sweet Sixteen team). In the Brown and White's fourth conference win in six games, freshman Mariah Ruff poured in 20 points.

Video courtesy of St. Bonaventure Athletics.
#24/23 George Washington 83, Fordham 65
Fordham is quickly falling off their high horse and ran into a beating when they traveled to our nation's capital Saturday afternoon. The unstoppable frontcourt of Jonquel Jones, Caira Washington, and Kelli Prange scored a combined 52 points for the Colonials, Jones leading the way with 22 points.
St. Joseph's 61, Richmond 59
The Hawks are slowly separating themselves from the bottom of the pack, however, St. Bonaventure is right on their tale. For St. Joe's, Natasha Cloud totaled 17 points, six rebounds, and five assists; Ciara Andrews would also add 15 point for the fighting Hawk Hillians.

Video courtesy of Saint Joseph's Athletics. 
Saint Louis 82, George Mason 59
In front of a crowd of over 7,000, the Saint Louis Billikens, behind Sadie Stipanovich's fifth double-double of the season, including a career-high 35 points, pounded the Patriots to even their conference record at seven. Jenny Vliet also add a double-double for Saint Louis, recording 13 points and 13 rebounds.
Atlantic 10 Standings—
1. George Washington – 13-1
2. Dayton – 12-2
3. Duquesne – 11-3
4. Fordham – 9-5
5. Richmond – 8-6
6. Rhode Island – 7-7
7. Saint Louis – 7-7
8. St. Joseph's – 6-8
9. VCU – 6-8
10. George Mason – 5-9
11. St. Bonaventure – 5-9
12. La Salle– 4-10
13. Massachusetts – 4-10
14. Davidson – 1-13