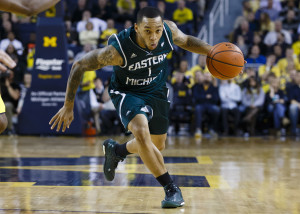 Sunday's MAC MBB results in 140 characters or less.
Compiled by Justin LaDuca
Kent State 64, Ohio 51
Flashes dominate on defense, holding Bobcats to just 2-12 from long range.
Buffalo 68, Bowling Green 56
Three Bulls (Evans, Moss and Skeete) score in double figures, including double-double from Moss (15 pts, 12 reb).
Video courtesy of Bowling Green Athletics.
Toledo 97, Western Michigan 87
Rockets shoot 60 percent from the field, in great offensive showing.
Central Michigan 83, Ball State 60
Chips win 5th MAC win in a row for the first time since 2003, and move into first place in the MAC West Division.
Miami (OH) 57, Akron 52
Eric Washginton scores 21 points and sinks game winning free throws in OT, to seal the win for the Red Hawks.
Video courtesy of Akron Athletics. 
Eastern Michigan 73, Northern Illinois 65
Mike Talley scores career high 25 points, and Karrington Ward adds 21 points and 9 rebounds to carry Eagles past Huskies.