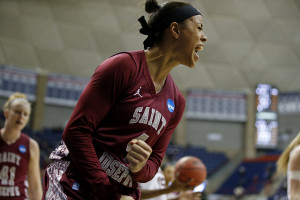 A dynamic frontcourt duo for GW, a career night for Pierre-Louis, another near triple-double for Cloud, another resume building win for Dayton, an overtime thriller between Duquesne and Richmond, and a major comeback in Saint Louis made up an exciting night in #A10WBB. On Thursday only one game would be played, however, La Salle picked up a big win against a much-improved Rhody team.
Compiled by Matthew Fidurko (@Durko33Matt)
La Salle 47, Rhode Island 45
The Explorers stingy defense allowed them to fight off the Rams late comeback and hold the nation's second-leading scorer in Charise Wilson to only points. For La Salle, Micahya Owens poured in 14 points and added four steals.
Wednesday's Results:
#24/23 George Washington 65, VCU 57
The frontcourt duo of Caira Washington and Jonquel Jones combined for 31 points and 30 rebounds in GW's victory to clinch a bye through to the quarterfinals of the Atlantic 10 Tournament. The Colonials also now boast the second-best 26-game record in program history.
Massachusetts 60, Davidson 49
It was a night to remember for Kim Pierre-Louis; the senior rattled off 27 points and pulled down 11 rebounds, surpassing the 1,000 point mark for her career. Also for UMass, Rashida Timbilla pulled down 15 rebounds.
Saint Joseph's 82, George Mason 51
The Hawks were able to dominate George Mason as Natasha Cloud nearly recorded a double-double again, totaling 17 points, nine assists, and eight rebounds. Five other Hawks finished in double-figures, snapping St. Joe's three-game losing streak.

Video courtesy of Saint Joseph's athletics.
Dayton 59, Fordham 45
The Flyers were able to keep the Rams falling Wednesday night, improving to 11-2 in the conference. Ally Malott was a stat-sheet stuffer for Dayton, scoring 10 points, grabbing 13 rebounds, blocking two shots, and recording four steals.
Duquesne 58, Richmond 51 – OT
In an overtime thriller, the Dukes were able to garner their 10th conference win of the season, making it the third straight season Duquesne was able to garner double-figure conference wins. April Robinson led the Dukes with 17 points and a career-high nine rebounds.

Video courtesy of Duquesne Athletics 
St. Bonaventure 57, Saint Louis 55
The Bonnies erased a 20-point deficit, guided by Katie Healy's 20 point, 15 rebound performance, to pick up a huge road win against a Billiken team that was riding a high after winning two in a row and giving George Washington its first loss in 19 games.
Atlantic 10 Standings—
1. George Washington – 12-1
2. Dayton – 11-2
3. Duquesne – 10-3
4. Fordham – 9-4
5. Richmond – 8-5
6. Rhode Island – 7-5
7. Saint Louis – 6-7
8. VCU – 5-8
9. George Mason – 5-8
10. St. Joseph's – 5-8
11. St. Bonaventure – 4-9
12. Massachusetts – 4-9
13. La Salle– 3-9
14. Davidson – 1-12