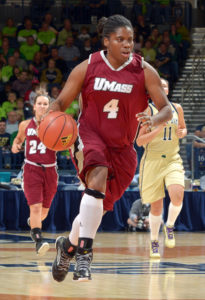 A show from Pierre-Louis, a combo 40 for the Dukes, Charise Wilson doing her thing, a milestone for Hoover and a holy cow, what the heck happened moment in Saint Louis made up an interesting night in #A10WBB.
Compiled by Matthew Fidurko (@Durko33Matt)
UMass 85, George Mason 79
Four Minutewoman, led by Kim Pierre-Louis' 29 points, finished in double-figures to give UMass the victory Wednesday night. Rashida Timbilla added 17 points, eight rebounds, six assists, four steals, and two blocks for UMASS.
Duquesne 72, La Salle 66
Amadea Szamosi and April Robinson combined to pour in 40 points in the Dukes fifth straight win. LaSalle was led by Micahya Owens; she finished with 17 points and three rebounds, however, it was not enough for the Explorers.
Rhode Island 63, St. Joseph's 61
After an off afternoon for Charise Wilson at St. Bonaventure, the freshman sensation was at it again Saturday night, pouring in 24 points and adding five rebounds. The "Queen of Assisting," Natasha Cloud, nearly recorded a triple-double, totaling 10 points, eight rebounds, and eight assists.
Dayton 79, Richmond 41
It was a career night for Dayton's Andrea Hoover as she tied Stephanie Miller for the most three-point field goals in the programs history. Career nights from freshman Javonna Layfield (11 points) and Jenna Burdette (13 points) aided the Flyer blowout victory.

Video courtesy of Dayton Athletics. 
Saint Louis 79, #20/21 George Washington 61
It has happened! It has happened! It has happened! GW has lost after winning 19 straight. Denisha Womack led the way for the Billikens, scoring 17 points, four other Billikens would finish in double-figures. HOLY COW!
Atlantic 10 Standings—
1. George Washington – 10-1
2. Dayton – 9-2
3. Fordham – 9-2
4. Duquesne – 8-3
5. Richmond – 7-4
6. Rhode Island – 6-4
7. VCU – 5-6
8. Saint Louis – 5-6
9. George Mason – 4-7
10. St. Joseph's – 4-7
11. La Salle– 3-8
12. St. Bonaventure – 3-8
13. UMASS – 3-8
14. Davidson – 1-10