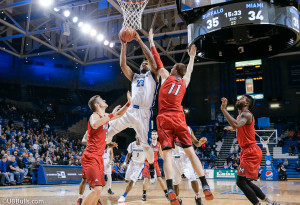 By Justin LaDuca
1.) Justin Moss, Buffalo
Continues to dominate the MAC scoring, averaging 18.3 points a game. Also leads in rebounding, averaging 9.3 a game with 204 rebounds on the season.
2.) Julius Brown, Toledo
His Rockets have won six in a row.
3.) Raven Lee, Eastern Michigan
Averaging 15.8 points a game and 2nd overall in the MAC with 379 total points scored.
4.) Chris Fowler, Central Michigan
Chippewas are riding a two-game win streak, with the best overall record in the conference. However they are a game behind division leading Toledo. Hall leads conference in assists with 127.
5.) Shannon Evans, Buffalo
Third in the MAC in assists with 100. Bulls are on a bit of a decline towards the season's crunch time.
6.) Maurice Ndour, Ohio
Second in the conference in blocks with 41. 1st in the conference with minutes a game (34.4).
7.) Javarez Willis, Ohio
A bright spot during a frustrating season for the Bobcats.
8.) David Brown, Western Michigan
Broncos have lost two in a row, but still remain above .500 with a 14-10 record. A bit of a winning streak will have them competing for the division lead.
9.) Jimmy Hall, Kent State
A strong player on a squad that could compete for the MAC crown come tournament time.
10.) Eric Washington, Miami (OH)
His first time as a member of the Weekly Power Rankings.  Averaging 14.2 points a game with 327 total points scored.