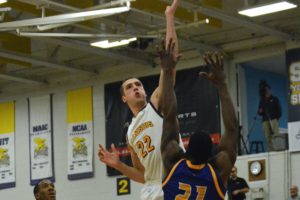 Courtesy of GoGriffs.com
Canisius head men's basketball Jim Baron announced today (Feb. 3) that sophomore forward Phil Valenti will be out indefinitely after suffering a right ankle injury in the Golden Griffins' win over Quinnipiac Jan. 30.
Valenti underwent an MRI Monday night and the findings of the MRI results were consistent with this type of ankle injury. The MRI confirmed that there was no fracture, however there was some soft-tissue damage. Valenti will be on crutches for 2-4 weeks, and the Canisius athletic training staff will monitor his progress throughout the recovery process.
Valenti ranks second on the team with his 10.6 points per game, highlighted by his career-high 24 points in the Griffs' win over Vermont Nov. 15. He ranks third on the team with his 4.9 rebounds per game, and his 2.6 assists per game ranks second on the team as well. A two-time Big 4 Basketball Player of the Week honoree, the Victor, N.Y., native was named the MAAC Player of the Week Jan. 19 after he averaged 20.5 points, 4.0 rebounds and 3.5 assists per game in a pair of home wins over Siena and Iona.
Canisius is currently 12-9 overall and 7-5 in MAAC play after falling to Marist at home on Sunday by the score of 75-67. The Griffs will head back on the road this weekend for a pair of games, starting Friday, Feb. 6, when the team plays at Manhattan. That game in Riverdale, N.Y., will tipoff at 7 p.m., and will be broadcast live on ESPN3.