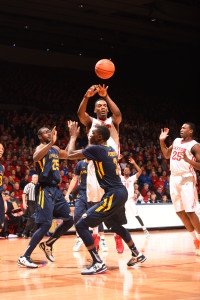 By Paul Gotham
In what can best be described as a decision born out of necessity, the University of Dayton Flyers have transformed themselves into one of the most efficient offenses in the country using a lineup with guards, guards and more guards.
Opponents fend off relentless pressure as UD ballhandlers go off the dribble with the choice between finishing in the lane or finding an open teammate on the perimeter.
In the middle of all this motion is not a center, nor power forward,  but 6-6 Dyshawn Pierre – the axis on which the Flyers' offense turns.
"They run offense through him," said Tom Pecora whose Fordham Rams fell at home 76-58 to the Flyers last weekend. "He's the catalyst to everything they do."
Pierre took just 12 shots but scored 16 as Dayton won their sixth straight at Rose Hill.
"He's the key to everything," Pecora said. "When we talked about Pierre in our scouting report, he was the key."
Pierre handed out just one assist. That's what shows in the box score. What doesn't appear in post-game statistics are the number of passes he made which led to an assist.
"He has ability to put the ball on the floor, draw defense and search out people and not be good but be exceptional putting the ball on their numbers," Pecora stated.
The effort came two days after Pierre and Dayton went into the Reilly Center and dissected the St. Bonaventure Bonnies, 78-61. The Flyers handed out assists on each of their first ten field goals. After missing their first two attempts behind the arc, the Flyers hit 6-of-9 from long range for the remainder of the first half – part of a 14-for-24 effort for the night.
Pierre attempted just one shot from long range on the night. It was half check to see if he had his rhythm and half message sent to Bona big man, Youssou Nodye, letting him know he might need to extend his defense for the night if needed.
"That's what makes it difficult," St. Bonaventure head coach Mark Schmidt said. "It's tough for a big guy to play on the perimeter. You pick your poison on how you defend them."
Pierre finished with 15 points on 7-for-11 shooting against the Bonnies. He grabbed seven rebounds and dished out three assists without committing a turnover.
"The great thing about him is makes the players around him better," Schmidt added. "He's not a pig. He shares the ball. Sometimes, to me, he looks like he enjoys passing more than he does scoring."
When needed he can create for himself and score.
Pierre all but sealed the UD victory over Bona when he caught the ball above foul-line extended on the right side of the floor. He went left off the dribble, switched directions twice before using a spin move in the lane to set up a jump hook (what is becoming his go-to move) over the 7-0 Ndoye.
Dayton led 58-45 with little more than ten minutes to play.
"They space you, and Pierre is just a force," Schmidt noted. "He can shoot the ball from the perimeter. He can take you off the dribble. He can post up."
Averaging a little more than 30 minutes a game,  Pierre is second only to teammate Jordan Sibert in the UD lineup with 12.8 points per game. A year ago, the Whitby, Ontario native connected on better than 40 percent (27-for-66) of his shots from behind the arc.
Against Georgia Tech in mid-December, he went 4-for-4 from long range. In the five games since, he has attempted just ten shots beyond the arc choosing to do his work in closer quarters.
With four guards facing the basket running UD's passing game, Pierre is left inside usually with one defender. The result has created opportunities for him and for his teammates.
"For a combo-forward he can really pass the ball," Schmidt explained. "When he posts up, you can't play him one on one. Somehow, someway you got to go and dig it out. He has a tremendous IQ for the game. He always hits the open man. The way Dayton has surrounded him with shooters they're really hard to play against."
Though averaging one more shot per game, Pierre is doing that while playing three more minutes per contest this year. He is converting that also to an increase in points per game (11.2 in 13-14) and rebounds (5.5 in 13-14 to 6.9 currently).
The theme of doing less with more runs throughout the UD program. Forced to go to a seven-man rotation a month ago, they have turned it into a rally cry of #trueteam.
That also includes the game plan on the floor. According to Basketball State, the Flyers are finding success with fewer possessions. Over their last three games, UD has had their least amount of trips down the floor this season – 63 against St. Bonaventure, Fordham (60) and La Salle (61).
The Flyers have also turned in three of their most efficient performances of the year. Scoring 1.28 points per possession versus Fordham and 1.23 against Bona. It took La Salle using a steady diet of switches on ball screens to trim that number to 1.01.
UD averages 1.046 ppp for the season.  Notre Dame leads the nation scoring 1.23 points per possession.
How long can Dayton (14-2/ 4-0 Atlantic 10) maintain this level of success?
No one knows the possibilities better than La Salle's Dr. John Giannini who used a four-guard lineup when the Explorers advanced to the 2013 Sweet Sixteen. Ramon Galloway, Tyreek Duren, Sam Mills and D.J. Peterson with Tyrone Garland coming off the bench took La Salle to the Regional Semi-Final for the first time in more than half a century. Ironically, their run started at the University of Dayton Arena in a First Four victory over Boise State.
"They're going to be really hard for anyone to guard now," Giannini said. "Even historically going back in this league, teams that have played small like that, us included, if the players are good enough they tend to have a lot of success.There probably isn't anyone that I've seen on tape this year who plays their personnel."
Pierre scored 16 and grabbed 14 rebounds as Dayton won their seventh straight, defeating La Salle 61-50. The game posed a test for the Flyers smaller lineup who had to face La Salle's front line of Jerrell Wright (6-8) and Steve Zack (6-11).
"They're aggressive," Giannini noted. "They draw help, and they kick very well. They do it immediately, without hesitation. They hit the open man when he's open not after he's open. They're a very special team in terms of their skill set with an emphasis on the passing. Great shooters need great passers…. Regardless of what they're running, they're going to be really, really good because of their players."
Dayton hosts Saint Louis on Saturday. Another 13 games remain in the regular season. For head coach Archie Miller appreciates what he sees in his team.
"We're playing very well together," Miller said. "That's a big thing just in watching us be able to carry over what we're doing every day and what we're talking about every day. We're taking it to the floor and watching our guys sorta execute on both sides of the floor."
In the middle of all UD's motion is Pierre.
"He might be a little under-sized," Pecora stated. "He might be this. He might be that. I'll tell you what he is. He's a helluva basketball player."
Jalen Robinson and Devon Scott were dismissed from Dayton in mid-December for a violation of school policy.
The Flyers also recently lost Ryan Bass for the remainder of the season as a result of concussion-related symptoms.