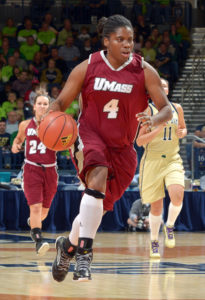 One win and two losses seems to the be the norm in #A10WBB after this weekend. George Washington and Fordham stayed undefeated in conference, while Davidson is still searching for their first-ever Atlantic 10 win.
Compiled by Matthew Fidurko (@Durko33Matt)
George Washington 77, Richmond 67
The Colonials were able to move to 14-2 on the season, matching the best 16-game start in program history, and improve their winning streak to 12 with a hard-fought home win Saturday afternoon. Jonquel Jones would record yet another huge double-double (21 points and 11 rebounds), while for Richmond Janelle Hubbard would pour in 19 points.
UMASS 65, Saint Joseph's 47
Behind Cierra Dillard's team-high 18 points and Kim Pierre-Louis' ninth double-double of her career (16 points, 10 rebounds) the Minutewomen were able to garner an absolutely colossal road victory Saturday afternoon. The "Assisting Queen," Natasha Cloud, led the Hawks with 20 points and seven assists.
Fordham 72, St. Bonaventure 62
In a game full of turnovers the Fordham Rams were able to stay undefeated in conference play behind Samantha Clark's 17 points and nine rebounds. For the Bonnies, Hannah Little poured in career-high 24 points, while Katie Healy pulled down seven rebounds.
George Mason 73, LaSalle 71
It was a thriller in Tom Gola Arena as Mason escaped Philadelphia with their first-ever Atlantic 10 road win thanks to Taylor Brown's buzzer-beater. Brown finished with 22 points, while Alicia Cropper led the Explorers 16 points.
Dayton 78, Duquesne 67
Andrea Hoover guided the Dayton Flyers with a game-high 22 points and five rebounds to their eleventh victory and a 2-1 conference record. Deva'Nyar Workman recorded a double-double with 10 points and 11 rebounds.
Photo courtesy of Dayton Athletics.
Rhode Island 71, Davidson 62
Davidson is still winless in conference in their first Atlantic 10 season. Freshman sensation Charise Wilson led the Rams with 22 points, extending her double-digit scoring streak to 14 straight games; the conference road win is Rhody's first in 1,828 games.
Atlantic 10 Standings—
1. George Washington – 3-0
2. Fordham – 3-0
3. Dayton – 2-1
4. George Mason – 2-1
5. Rhode Island – 2-1
6. VCU – 1-1
7. Saint Louis – 1-1
8. Duquesne – 1-2
9. LaSalle – 1-2
10. St. Bonaventure – 1-2
11. St. Joseph's – 1-2
12. Richmond – 1-2
13. UMASS – 1-2
14. Davidson – 0-3