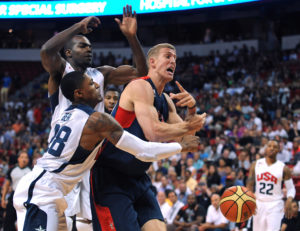 By Joe Mags
The USA Basketball Blue/White scrimmage was supposed to help the coaching staff narrow the field of players from 20 to 12 — help, in this case, being the key word. 
The gruesome injury that Paul George suffered on Friday night serves as a cautionary tale that nothing in athletics is ever guaranteed. The injury also drastically alters the shape of USA Basketball's 2014 roster for the FIBA tournament in Spain next month. Granted, the U.S. has plenty of colossal strengths it can fall back on in this tournament. It has a deep well of guard play, so much so that easily a couple of the best guards in the world will be left off the final roster, and the forward combination of Kevin Durant and Anthony Davis is unmatched internationally. America will arrive in Spain as the favorite.
Still, George's injury changes what was the obvious starting lineup — he was set to take on the Andre Iguodala forward spot from 2012 next to Durant — and simultaneously opens up a roster spot for someone else, though no other player vying for that spot can duplicate George's combination of defensive prowess (2013-14 1st Team All-NBA Defense) and athleticism. 
Did the Blue/White scrimmage do any good for Team USA? Did we learn anything about successful combinations and who might supplant George in the starting lineup? Let's take a look.
The Starting Lineup:
We already know with 100 percent certainty Durant and Davis are locked into the 4 and 5. (We'll get to why their lack of girth is a problem in a second.) Derrick Rose wowed his Chicago fans on Friday night with a few speedy drives to the tin, including two classic D-Rose finishes around the basket; he's back. As terrible as George's injury was, it still felt really great to see Rose out there playing healthy, which was the major positive takeaway from the scrimmage. And as he squealed to the media, he's on the team, and he'll be starting at point guard, where there is plenty of depth to manage his minutes properly.
That leaves the two wing positions — the off-guard spot that most likely belongs to James Harden and small forward. George not being available truncates the wingspan of this team, a front-court that was already void of several All-Stars after Kevin Love, Blake Griffin and LaMarcus Aldridge all dropped out. Team USA is not a big team — Durant and Davis are both playing up a position — and Spain, unquestionably the other top team, is very large. 
George was Team USA's out as a tall and lengthy small forward who could guard any position — whoever the other team's best player is. Assuming Harden is the team's starting 2-guard, there is a gaping hole in the starting lineup for defense as well as size. 
Which is why I would promote Klay Thompson. Yes, Thompson is the team's only other 2-guard, but at 6-foot-7 he can guard international small forwards, and is a plus-defender who some believe is Golden State's best defender — a team that pays Iguodala eight-figures a year.
Thompson adds elite marksmanship to a starting lineup that features two below-average three-point shooters (Rose, Davis). A starting lineup with Durant and Harden in it means that the ball will be in their hands the majority of the time, and that doesn't include Rose; Thompson gives the starting lineup some much needed balance, as a spot-up shooter who can also post-up smaller defenders.
The alternative, I guess, would be to move Durant to the wing and start a "big" — either another wing/forward such as Chandler Parsons or Gordon Hayward or a traditional forward like DeMarcus Cousins. But I don't get the sense that Coach K is interested in moving Durant out of the 4 spot, where he will dine on unqualified international forwards who cannot keep up with his scoring tangents.
Boogie or Plumlee or both?
Coach K split up Davis and Durant for the scrimmage — Durant played with Boogie Cousins; Davis shared the front-court with Kenneth Faried and Mason Plumlee. (For the purposes of the 2014 FIBA team, I'll excuse Andre Drummond from all consideration, as he still has no clue out there, and raw power and leaping will not do much good off the bench against a loaded Spain.) As I said before, Davis and Durant are a pretty small "big" tandem, even for international play, and in particularly against the Gasol brothers, whose team is hosting the damn tournament. 
The U.S., however talented they may be, is going to need at least one traditional center off the bench, as the threat of foul trouble to either of its prize forwards is dangerous. 
Many rumors have been circulating that Coach K prefers Plumlee to Cousins on this year's team. (Please bring on the Duke University conspiracy theories.) Cousins is unquestionably the more talented basketball player; he averaged fourteen more points and seven more rebounds in fourteen more minutes per game than Plumlee last season (and in the West, no less). In Plumlee's defense, he does do many things well that transcend statistics, and has skills that could serve him well on this year's team. 
I consider this summer a make or break decision for USA Basketball on what they want to do with Boogie. Saying no to him now, after three years with the program, would be a slap in the face; and taking Plumlee over him would be burning a bridge. Are Coach K and Jerry Colangelo willing to set fire to their relationship with a 21 and 12 machine like Cousins, a player who might be the best center in basketball sometime between now and the 2020 Olympics? That seems foolish, and to entertain taking Plumlee over him is even sillier. I'm not sold that Cousins' antics and behavioral issues in the past can really cost Team USA a game in this tournament; and while Plumlee is a team-oriented piece, he has work to do on the offensive end against the best competition.
On Friday, he missed some routine rolls to the basket, like this one off a PnR with Kyle Korver. In the second photo, that's the ball whizzing by where Plumlee should have filled in.
Plumlee is never going to have a play called for him, but he also can't be a minus on the offensive end, not when the Gasol brothers are controlling the paint for the Spaniards. He did have some excellent moments in the second half, including an alley-oop slam on a fastbreak with he and Hayward; he's ultimately, in the context of international and olympic-level basketball, an effort guy.
Can the U.S. take both big men, or will their deep well of talent at guard forbid them from carrying a fourth forward? Personally, I cannot justify denying Cousins a spot on the team, not in a summer where the key opponent features actual big men, and not when Cousins stayed true to the USA program as he watched Love, Griffin and Aldridge turn down roster spots — albeit for varying reasons. 
Let's come back to the Cousins/Plumlee issue. Just know that I'm not scorning Cousins for Plumlee, especially not when the size and talent of Cousins might be the best option for Team USA to attempt replacing George.
How many guards is too many guards?
Chris Paul, Rajon Rondo and Russell Westbrook aren't going out for the team and Derrick Rose is penciled in as the starter, and still this is the list of options Team USA has to fill out their back-court: Stephen Curry, Damian Lillard, Kyrie Irving, John Wall and Bradley Beal. Too many guards is not a bad problem to have in basketball, except maybe when the only glaring issue on the team is not enough front-court play, and only three guards, at best, can play at one time. 
Curry is a lock. In fact, I'd consider starting him at shooting guard next to Rose and Thompson and bringing Harden off the bench in the Carmelo-role from 2012. (1) It keeps the Splash Brothers paired together, which only makes sense. (2) Harden's destiny on this team might be leading second-units and torturing the opposing team's bench. (3) Curry and Davis were unfair together on the PnR; only when the White team blitzed Curry and forced him to pass the ball away did they stop them. Curry found Davis on a fantastic alley-oop and plays like that will be there all tournament. Davis diving to the rim will create many three-point looks for the premiere Splash Bro. 
There is some redundancy between Lillard and Irving. Both are high-octane offensive players, capable of creating shots 1-on-1 and equally deft at getting to the basket or hitting from the perimeter. I'm partial to Lillard; while Irving is the more famous of the two, Lillard dominates Irving in actual basketball accomplishments, and is a better creator for others. I think both make the team, but Lillard is more qualified to share the backcourt with Rose and Curry, while Irving might struggle off-ball in these pairings. (Sidebar: With LeBron coming to town, he's going to have to learn how to work off the basketball. Just sayin'.)
That leaves the two Wizards potentially on the scrap heap. Wall was the best point guard in the East this past year (apologies to Kyle Lowry) and might be a better player in a vacuum than both Lillard and Irving; but he's an inferior shooter to both of them, and in the international game, a point guard who struggles from behind the arc is the equivalent of having a center who can hardly rebound. If Rose claims the starting guard spot, there might not be any need for Wall's drive-and-kick skills, as that's the basic premise of Rose's game. 
With Beal, it's a bit more simple. Thompson is a much better fit for Team USA, both as a larger wing and as a more consistent three-point threat. Beal might be the better player down the road (he also might not be) but he's a small wing, roughly the same size as many of the reserve point guards vying for the team — players like Lillard and Irving who are better, pound for pound, than Beal. 
Korver or no Korver?
Without George, I believe it is fair to say that Team USA is a notch behind on the defensive end, and regardless of who they take to round out their roster this will be the case. Team USA can elevate itself, however, on the offensive end, where it figures to be the best scoring team in the tournament. I believe the loss of George makes it imperative to add a weapon like Korver to the bench, as Team USA's quest to outscore its opponents benefits with the most elite jump shooter in the NBA on board.
Korver is more than just a shooter; as Zach Lowe brilliantly covered in July, Korver is an offense unto himself. As international teams stay glued to Durant, Harden and Curry, Korver figures to see plenty of wide-open looks from behind the three-point line — a line that is shorter than the one he is used to in the NBA. Korver connected on 58 percent of his stationary three-pointers last season; Lowe reported that nobody else was within five percent of that mark.
On paper, some might take any one of the remaining players ahead of Korver, but in 2014, we know better. Korver is the most valuable wing player trying out for Team USA.
Final spot(s)?
So far I have Rose/Harden/Thompson/Durant/Davis/Curry/Lillard/Irving/Korver on the team. That leaves three spots — at least one of which belongs to Cousins or Plumee. The final two spots will go to the other forward, and one of three versatile options: Parsons, Hayward or DeRozan.
I think Coach K should take both Boogie and Plumlee. It is clear that Plumlee has earned the respect of both the coaching staff and his teammates, and his big body and intangibles will come in handy in plenty of matchups. But Boogie should go to Spain: he is an uber-talented young player who stuck it out through the entire summer, which is more than Love or Aldridge can say — players who might ultimately take an Olympic spot away from Cousins in two years. Both players would fit into the team's rotation; Cousins can play some forward in big lineups, and I could even see Cousins/Plumlee playing together in huge reserve units designed to buy Davis some much needed rest and/or relief from foul trouble. On opposite teams on Friday, the two big men combined for 21 points and fifteen rebounds. 
And there's enough redundancy between Parsons/Hayward/DeRozan that taking more than one of them is a poor choice. (Also a benefit to Korver that he blows all three of these players out of the water in, at least, one skill.) DeRozan led all scorers in the scrimmage, although that stat is flawed when considering most of the starters would have threatened his game-high sixteen points if the game had included a fourth quarter, like Harden, who finished with fifteen points. The Toronto Raptor made 6 of 9 shots from the field, added four rebounds, and was aggressive against the second-unit defenders on the White team — mostly Parsons and Beal. 
But DeRozan is a lousy three-point threat that inched over 30 percent for the first time in his career last season, on by far the best shooting team he has been a part of. Even with Korver, Team USA really can't afford any of its non-bigs to be minus perimeter shooters, as the entire makeup of the team is centered around its guard play and athleticism — and hopefully that shooting distracts teams from its medicare size. This benefits Parsons in the process, a player who (a) has hit at least 37 percent of his 3PM in each of the last two seasons and (b) can play all over the court in international play. The now Dallas Maverick is probably the best backup power forward Team USA has to choose from, considering Paul Millsap was a late-invite and a more rigid fit on the team — although I'd love to see what he and Boogie looked like next to each other against second-team front-courts. 
(Sidebar: I never mentioned Faried again, but he will probably fall short of the team as well. Unlike Millsap who is at least a scoring threat from the perimeter, Faried is useless outside of the post. But hey, at least we have this video to fall back on until the regular season starts back up!)
The sleeper here is Hayward, the recent $63 million man in Utah who is a supremely underrated player. While Parsons is the better shooter, Hayward has a great drive-and-dish game, one that would have been complimented better in Utah the past couple seasons if they had better talent. On Friday, Hayward faked a handoff to Korver on the perimeter, then dribbled hard to the left side of the basket, drawing multiple defenders. He swung the ball over to DeRozan on the right wing, who had the much smaller Beal suddenly switched onto him, and DeRozan drove Beal to the tin and finished with the basket. 
Hayward cannot really play the 4 even against international competition, but he can play both ways at the 3, and could supplant George in the starting lineup if Coach K was feeling particularly bold. It would be a way for Team USA to build its 12-man roster in the most similar way to what it imagined in the days leading up to Friday. Essentially, Hayward could replace George, freeing Coach K up to take Parsons over Cousins.
Then again, with Spain waiting on the horizon, it would be best for Team USA to move forward from George's injury. George is not playing in this tournament, and Hayward is no George. If the team would like to maintain its current stretch of world dominance, it will have to adjust to the cruel injury that occurred to its small forward on Friday, and that demands a creative approach to 12-man roster.
Joe Mags (@thatjoemags) is the Editor-in-chief of The High Screen coming this fall and a staff writer for pickinsplinters.com. He is interning for the Watertown Daily Times. Peace, love, recycle and ball.