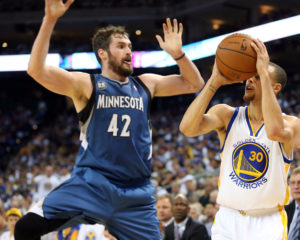 Kevin Martin and the Lakers first round pick are latest hurdles in Love sweepstakes
By Joe Mags
Elite basketball players are only available so often. When a team has a chance to make a move on such a player, they must take action.
The Warriors have a few advantages in the battle for Kevin Love. They are a good basketball team, possibly an injury to starting center Andrew Bogut away from advancing to the second round in the crowded Western Conference. While teams like the Boston Celtics and Denver Nuggets are making offers for Love's services in an attempt to return to the playoffs, the Warriors and their electric home crowd have been in the playoffs the last two seasons.
Golden State's upcoming move to the San Francisco market puts them firmly in one of the largest cities in America – a city that happens to be on the West Coast, where Love is from and where many believe he would like to return. While playing for the Lakers or Knicks will always mean something different than playing for the, say, Timberwolves, signing a max-contract to play for a strong San Francisco team is a bit more enticing than hopping on to the sinking ships in La-La Land or Manhattan.
The No. 1 selling point for Golden State, of course, is pairing Love with All Star Stephen Curry. Already one of the game's most popular players, Curry is the most dangerous perimeter shooter in the NBA: he is currently re-writing the record books in all 3-point categories; he someday might invent the 50-50-90 club.
With the possible exception of Dirk Nowitzki, no player bends NBA defenses like Curry does. Opposing teams have to play pick-and-rolls and point guards one way against 28 teams, and a completely different way against Golden State.
If defenses treat Curry like any other guard, he uses his arsenal of size-up dribble moves to free himself for open shots, bombs that can extend as far away from the hoop as one can imagine. Teams that prefer keeping the screener's defender down at the foul line to protect the paint are giving Curry a free pass to shoot. NBA defenses do not enjoy changing their general game plan so dramatically for a single player, but against Curry it's mandatory.
Watching a Golden State game means watching Curry work harder than any other player in the game fight off extra defenders. He is constantly dealing with double-teams, sometimes triple-teams, in an attempt to push him off the 3-point line. But even when he is triple-teamed, Curry has become particularly valuable as a passer, finding wide-open teammates abandoned by the extra help. Curry has increased his assists per game from 5.3 to 6.9 to 8.5 over the last three seasons as he has evolved into one of the scariest offensive weapons in basketball.
Throw Love in the starting lineup with Curry and suddenly the Warriors have a pick-and-roll combination that the NBA has never seen before – one that could lift Golden State to the top of the Western Conference. On Curry/Love plays, the defense is left with a dearth of options, and short of using a third defender, either Curry or Love should have an advantage on every possession.
Former head coach Mark Jackson's offense was never the most creative – it relied too heavily on isolation and not enough on off-ball screens and fluid passing. While Golden State has gotten good production from their 24-year-old sharp shooter Klay Thompson, their offense constantly stalled whenever Curry came off the floor. Thompson almost certainly is the price Golden State would have to pay in order to acquire Love's services, a price that the Warriors' front office is currently split on.
Thompson might be the game's best traditional shooting guard, and after nailing over 40 percent of his long-range jumpers in back-to-back seasons, Thompson will demand a hefty salary whenever he hits free agency. He is due to become a restricted free agent in 2015, but he is eligible for an extension this summer, something that Golden State will strongly consider giving him in the event they hold on to him.
But what is he worth? Thompson's representatives may very well push for something close to the max, a tall price tag for a player who is a great shooter, a solid defender and pretty much average everywhere else. Suppose Thompson asks for something in the neighborhood of 4 years, $48 million – what Andre Iguodala was given by the Warriors last summer: can the Warriors really afford to pay Curry, Iggy and Thompson a combined $36 million per season and still field a team capable of climbing over the Spurs, Thunder and Clippers out West?
The most popular version of Love-to-Golden State to this point has involved Thompson, David Lee and future draft picks ending up in Minnesota in exchange for Love, Kevin Martin and the expiring contract of J.J. Barea. But Golden State's reluctancy to deal Thompson and their reported refusal to take on Martin have stalled trade talks just days before the NBA Draft. To further complicate things, Thompson's father made it no secret that his son would not be pleased with a trade to Minnesota, which would make it difficult for the T'Wolves to keep Thompson long-term without offering him near or at the max.
Enter the Lakers, who want to save the day by offering their No. 7 overall selection to the T'Wolves in exchange for Thompson, essentially making this a three-team deal (technically two separate deals).
The problem is that this three-team deal – which would land Thompson in Los Angeles, Love in Golden State, and Lee/multiple first round picks in Minnesota – is terrible for Minnesota, and is significantly less enticing than Boston's offer of the No. 6 and 17 picks on Thursday plus other young guys and expiring contracts.
While Love to Golden State and Thompson to Los Angeles is sexy, Minnesota isn't in the business of giving Love away for nothing. In fact, it remains wholly possible that Minnesota will hold on to Love and give the Ricky Rubio/Love combination one more go around before the February 2015 trade deadline.
If Golden State wants to get a deal done, it needs to think about Minnesota's needs in this deal, and prioritize its own. Nothing should be more important in Golden State than teaming up Curry and Love, even if that means compromising on smaller pieces of the trade.
Harrison Barnes has hardly been mentioned in these rumored deals, but he is essential to any deal between these teams. He is team controlled over the next two seasons for cheap, and is one of the most intriguing young players in the NBA. It doesn't take a rocket scientist to figure out he was underused and/or misused the last two seasons, and while a change of scenery isn't mandatory – after all, a brand new head coach is taking over the helm this winter – the 22-year-old forward would get huge play in Minnesota.
Golden State and Minnesota will continue to talk between now and Thursday's draft, and beyond if Love isn't dealt on draft day. If the Warriors offer the T'Wolves a package of Barnes, Lee and future draft picks, they would most likely have to take on whatever contracts Minnesota wishes to part ways with – ala Martin – for them to even consider the deal.
Martin should not be the end-all be-all to this trade. No Warriors fan is going to be okay with Love playing for Los Angeles or Boston the second-half of his Hall of Fame career because Golden State couldn't bear the thought of Martin's poor defense on the roster. And despite his incompetence on that end of the floor, he remains a 19+ points per game scorer who could go a long way to improving a terrible scoring bench in the Bay the last couple seasons.
Simply: If Golden State can acquire Love without having to deal Thompson, then they must take the deal, even if Martin was contractually obligated to not run back on defense while in a Warriors uniform.
If the Warriors do not acquire Love this summer, it's a huge missed opportunity. Trades and free agency allow for some player movement, but seldom a player of Love's abilities and age. Even rarer is the chance to pair together two players who compliment each other so perfectly. Losing young talents like Thompson and Barnes, and a fan favorite like Lee, is the price that a team like Golden State has to pay in order to acquire franchise changing players like Love. The difference between Curry spending the prime of his career in between the first and second rounds and competing for championships could be how far Golden State is willing to compromise in their trade negotiations with Minnesota.
Joe Mags (@JoeMags_hoops) is a staff writer for pickinsplinters.com and interning for the Watertown Daily Times. Peace, love, recycle and ball.