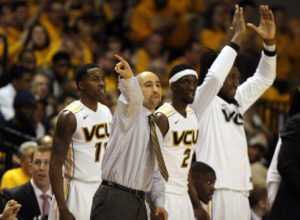 By Ryan Lazo
RICHMOND — It was just four years ago Virginia Commonwealth University found themselves in the crosshairs of a nation and national media who deemed their inclusion into the NCAA Tournament as unbecoming. After all, these Rams had earned just a No. 4 seed into the Colonial Athletic Association Conference Tournament before losing in the championship game to Old Dominion.
Yet, as the committee stared at a team that had won 28 games during the regular season, they decided to tab VCU as the one of the last four teams in, placing them in the inaugural First Four round of the NCAA Tournament. While critics bashed the decision, the Rams quickly turned heads with an energetic style of play that no one had seen before.
VCU stormed past the University of Southern California, blew by Georgetown, defeated Purdue before knocking off both Florida State and Kansas to advance to the program's first Final Four. Fast forward to today and the Rams are no longer the upstarts they were four years ago.
There is not outcry over their inclusion into the tournament as the Rams have now solidified themselves as one of the top programs in the country, finishing the regular season ranked at No. 25. Instead, there is now a form of pressure for a team that is expected to not only gain an NCAA Tournament berth, but win games every season.
"When the ball goes up, there is no label on your shirt that says underdog and favorite or even five seed or 12 seed," head coach Shaka Smart said Monday during a press conference. "The biggest thing is getting our players prepared for the particulars of the game itself and what goes into winning on the defensive and offensive end against that particular opponent."
As much as Smart aimed to downplay it, his Rams are the favorite in their second-round match-up against Southland Conference Champion Stephen F. Austin. The Lumberjacks, winners of 28 consecutive games, are surely a terrific team, but it's VCU who now has the pedigree after a dominating five-year span under Smart's reign.
With a second-round win in this year's NCAA Tournament, VCU will have won at least one tournament game in each of the last four years while making Smart the only coach in history to win at least 27 games in each of his first five seasons. Yes, in almost five complete years in charge of the Rams, Smart has compiled a 137-45 record for an unheard of winning percentage at nearly 75 percent.
Additionally, VCU has earned a tournament berth in four of Smart's five seasons including reach four conference tournament title matches as well. March basketball has become a given around the VCU campus, yet the excitement of it never wavers.
"It hasn't withered, I think, at all," Smart said. "… It's something as a kid you watch growing up and now you are part of a team that sees your name go across the screen and that's exciting."
But Smart also acknowledged it is hard for his players to keep their recent string of success in perspective.
They haven't known the Rams' program as anything but an annual March Madness participant. It's hard for them to put into perspective that before their magical Final Four run, the Rams qualified for the NCAA Tournament just three times in 14 years including a seven-year gap between the 1995-96 and 2003-04 seasons.
"I don't they have much of a feel for that at all," Smart said of his players. "I just think at that age, it's very difficult to have a level of perspective if you haven't been around. Rob (Bradenburg) and Juvonte (Reddic) have a little bit, but they have been to the tournament every year they've been here. Sometime it takes having not been there, having gone through the CBI or stuff like that to give you perspective."
In fact, it was in Smart's first season as head coach where the Rams competed in the CBI, winning the entire tournament, while playing future A-10 foes in George Washington and Saint Louis in the finals. It may be no coincidence then that all three of those teams are now sitting atop the conference standings at seeds one through three.
It's a point Smart made sure to remind his players of once getting back to campus after learning where they would be placed in the NCAA Tournament.
"This is not a given," Smart said of talking to his players. "I told them yesterday when we came back, 'you guys earned this five seed and you guys worked hard and created where we are now, so that's something you should feel really good about.' When the year started, it didn't matter what you're ranked or what people say about you. You still have to go out there and earn it."
And under Smart, the Rams have done that and then some, playing with a sense of urgency all year long.
You can see it by the way they play defense as they force their opponent into turnovers on nearly 27 percent of their possessions. You can see it by the way Brandenburg is playing his best basketball over his final games. You see it in the physical play of both Reddic and Treveon Graham. And you can see it in the tenacity of A-10 Defensive Player of the Year Briante Weber.
But most of all, you can see it in the way Smart has built what was once called a solid mid-major program into a household name and one of the elite teams across the country with a defensive hallmark which no one can emulate.
Ryan Lazo is the sports editor at The Hopewell News covering preps, VCU, University of Richmond, Richard Bland and Virginia State University. You can follow him on Twitter @ByRyanLazo