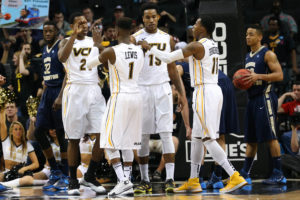 By Ryan Lazo
RICHMOND — Virginia Commonwealth University's men's basketball team reached the Atlantic 10 Conference Tournament championship game Sunday afternoon, the third time in four years they have made a title game appearance, but fell to Saint Joseph's University for the second time this season.
The loss in the A-10 Championship game marked the second-consecutive season in which VCU had fallen in the title game after being eliminated by Saint Louis in their inaugural season in the conference one year ago. However, while the team was again visibly disappointed in the outcome, they knew their season was not over.
After winning 26 games, achieving an undefeated regular season home record and  earning the second-best A-10 Conference record, VCU was handed a No. 5 seed in the 2014 NCAA Tournament. The at-large bid marks four consecutive seasons in which VCU has qualified for the NCAA Tournament starting with a First Four bid to Final Four appearance in 2011.
And while NCAA Tournament berths have become the norm for a program which has risen from being disregarded as not belonging in the tournament and receiving criticism for their selection to becoming a household name with a brand of basketball recognized on the national level, the excitement has not withered away.
Sitting inside a quiet room in the team hotel following the loss to the Hawks, VCU's players erupted in raucous cheering as the university's name flashed across the screen, bringing with it the added excitement of March Madness.
"We were disappointed obviously with the result of the game. A little down and a little upset," head coach Shaka Smart said in a press conference Monday morning. "When our name came up and our seed, our guys went nuts and yelled and screamed. We have a lot of new guys on our team that have never been to the NCAA Tournament."
And waiting for the seven redshirt and true freshmen along with the seasoned veteran core of VCU is a Stephen F. Austin team which won the Southland regular season and tournament titles. The Lumberjacks boast a 31-2 record and currently boast a 28-game winning-streak.
In addition, Stephen F. Austin has four players who average in double-digits including Southland Conference Player of the Year Jacob Parker. The 6-foot-6 forward averaged 14.2 point and 7.1 rebounds per game for a team which relies on the 3-point shot.
In the small amount of video Smart has seen on the Lumberjacks, he likened them to past Belmont teams because of their ability to shoot and pass the ball at a high-level. It's enough to put a scare into any team in a dreaded No. 5 versus No. 12 match-up and even more so for a team which is no longer an upstart, but a team expected to win when it matters most.
"Stephen F. Austin has won 28 consecutive games, so they are obviously a terrific team," Smart said. "When the ball goes up, there is no label on your shirt that says underdog and favorite or even five seed or 12 seed. The biggest thing is getting our players prepared for the particulars of the game itself and what goes into winning on the defensive and offensive end against that particular opponent."
So the question remains as to what does Smart and his team know about the Lumberjacks and how best to attack them?
Any team which has rolled off a 28-game streak has to be doing something right and that should be enough to scare a VCU team which has shown a tremendous weakness against teams who can control the pace. All season long, the Rams would wait an opponent out and continue to implement their HAVOC pressure until the effects wore on their opponent.
It worked in wins over Old Dominion who took a lead after halftime and the likes of George Washington and Richmond in the tournament. However, against a Saint Joseph's team which did not substitute for the entire second half, the Rams met their match.
The Hawks never panicked in the face of the vaunted full-court pressure defense while effectively slowing down the pace — SJU attempted just 50 field goals — and limited the Rams to just 10 fast-break points. All of which provides a blue-print on how attack the weakness of the Rams.
Yet, while their own weaknesses were on display, Smart sees very little on the Lumberjacks while knowing his team will need a strong effort to defeat them.
"Anytime a team wins 28 games in a row, they are doing a lot of things right," Smart said of Stephen F. Austin. "Just by watching them, you can see they are on the same page … For us it will be a heck of a challenge and we'll take the next few days to teach our guys about Stephen F. Austin, their personnel and how they operate on offense and defense."
Having to play without Melvin Johnson and his 10.4 points per game will certainly hurt the Rams, but they have enough experience and toughness to advance through the second round. Sure, the Rams may not have received as favorable a match-up as other teams, but in the reverse, does anyone truly believe the Lumberjacks are confident about their chances over VCU?
The Rams have won at least one NCAA Tournament in each of the past three seasons and have two seniors who know what it takes to win in March. Rob Brandenburg is the midst of playing his best basketball all season and Mo-Allie Cox has become a sheer terror to deal with inside the painted area. And one can't forget Briante Weber and his out-of-this-world steal totals combined with the clutch factor of Treveon Graham.
All of it adds up to a likely VCU win Friday night which will leave their coach standing all alone as the only coach in history to win at least 27 games in his first five seasons, continuing the building of a program which is only elevating to new heights.
Ryan Lazo is the sports editor at The Hopewell News, covering preps, VCU, University of Richmond, Virginia State University and Richard Bland College. You can follow him at @ByRyanLazo