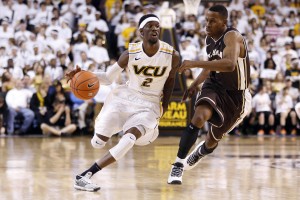 "Briante Weber is the best defender in the country." – Phil Martelli
By: Joe Manganiello
There is no substitute for expertise and experience, and more than 19 years of work speaks for itself.
Phil Martelli has been the head coach at St. Joseph's since 1995, and a member of their coaching staff since 1985. He's been a National Coach of the Year, and he is a four-time Atlantic 10 Coach of the Year.
He knows a thing or two about basketball.
When his Hawks defeated the VCU Rams on Sunday for the Atlantic 10 championship, Martelli was the loudest voice in the room in congratulating the efforts of fellow head coach Shaka Smart's ball club.
He was loudest, in particular, about the play of junior Briante Weber – VCU's floor general and the NCAA leader in steals.
"Look, you can do all the campaigning that you want; the national media has already decided that Aaron Craft is the best defender in the country," Martelli said. "Briante Weber is the best defender in the country. The kid has 120 steals. So they can give the award to whomever they want but [Weber] is the best defender in the country, and I was scared to death of his defense and his presence around the ball."
Weber was named Atlantic 10 Defensive Player of the Year and to the conference's all-defensive team last week. He was not, however, named to an all-conference team, and continues to lack the national backing that Craft (Ohio State) does.
Weber is having an elite season, the likes of which is seldom seen. Through 34 games, Weber has 115 steals. Only five players since 1997 can say that – and Weber might move up that list before season's end.
Craft averages about a full steal less per game than Weber, but most cases for Craft as Defensive Player of the Year begin and end with the higher level of competition that he plays against in the Big Ten.
Martelli's comments speak to a louder point, which is that Weber remains underrated on the national scene. The Atlantic 10 received a record six bids for the NCAA tournament on Sunday, something that Martelli addressed in his post-game conference, when asked about Duke head coach Mike Krzyzewski's negative comments toward the Atlantic 10:
Q: When you came in and gave your opening statement, you said you know this is a top five league, and you would get six teams in. Last night, Mike Krzyzewski compared the A10 to the ACC, and said that he didn't know if A10 teams could handle that schedule. What did you see this week that reinforced your belief that this is a top five league? 
COACH MARTELLI:  I'm not familiar with whom you're referring to. (Laughter.) Who is the guy? 
Q: Mike Krzyzewski from Duke. 
COACH MARTELLI:  Oh. (Laughter.). Look, I think that – here's what I say, and I said the same thing about Wichita State, and I said the same thing about my team in 2003, 2004: If we were playing their schedules, we would have different players, because we would have greater recruiting advantages. Look, the decisions that are being made – that [have] already been made – at 6 o'clock tonight are numeric: who did you play, how did you do, and where do your numbers lay out.  It will be a great celebration for the Atlantic 10 tonight with six [teams in the NCAA tournament].
Martelli and Krzyzewski's comments are reflections of a frustration building between the power conferences (ie: ACC, Big Ten) and the mid-majors (ie: A10, Big East). The power conferences are tired of hearing that the mid-majors are competing on the same scale as they are, while the mid-majors wish to remind conferences such as the ACC or Big Ten that they are the ones who continue to change the scale – who have perverted the landscape of college athletics with conference realignment.
It's these tensions that have turned the triumphs of two very gifted student-athletes (Craft, Weber) into a microcosm for the political battles between the haves and have-nots.
That has nothing to do with Weber, or Craft, or basketball.
Beyond Defensive Player of the Year debate, Weber is more than just a defensive dynamo. He's the emotional leader on both ends of the floor for the Rams.
"He's definitely the biggest talker on the team.," Smart said.
Smart believes the process for Weber started when former VCU starting point guard Darius Theus graduated after last season.
"What we needed Briante to do was assume the on the court role of handling the ball and leading the team and getting everyone connected on the court," Smart said. "But also the off the court leadership, which Darius was so good at that.  I mean, he was the best we've had. I think [Weber has] come a long way as a point guard."
"Words can't explain the type of bond me and Coach has," Weber said after their victory over George Washington on Saturday. "Since Darius was here, [Smart and I] connected, and since he left, we've kind of been on the same page. We had tough times freshman year. He sat me down towards the end of the season so I kind of didn't know how I felt about him but now – (laughter) – me and Coach Smart, we're close and I congratulate him on his win, and we're going to get him more wins."
It's Weber's quickness, with the ball or chasing ball handlers on defense, that sets him apart.
"His speed is just phenomenal," Martelli said. "Weber was taking the ball wherever he wanted this whole tournament, and the games going into the tournament. We just tried to keep him in front of us as much as possible, and make him take some challenged shots. We did a lot of switching on the perimeter, too, so that they couldn't turn the corner with him."
"First, I have to attack and make the defense honest, and when I'm attacking, then that means, exactly, I'm getting my teammates open," Weber said. "So whatever the defense gives me, that's what I'm going to take and my teammates were open and I hit them and they were making open shots."
What's unbelievable to think about now is that Weber did not have a bundle of scholarship offers out of high school in Chesapeake, VA; he was never sweet talked by neighboring ACC schools. As Smart said on Saturday, Weber had "peanuts for offers."
That made him all the more passionate about playing at VCU.
"Briante, he was begging to come to VCU," Smart said. "That's one of the reasons he's been good is guys that want to be a part of VCU – guys that really have that want to and take pride in those three letters across their chest – those are the guys that have been good in this program for a long time before any of us got here."
No. 3 seed Duke opens tournament play in the comforts of North Carolina, taking on No. 14 seed Mercer on Friday afternoon.
No. 5 seed VCU tips off against No. 12 seed Stephen F. Austin in San Diego, CA on Friday night.
Joe Manganiello (@JoeMags_hoops) is a staff writer for pickinsplinters.com. He was published in the 2013-14 USA Today Sports College Basketball Preview. Peace, love, recycle and ball.