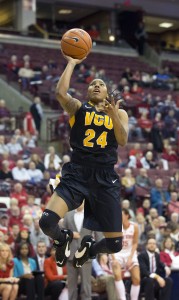 By Taylor Nigrelli
RICHMOND, VA — In the first game of the first round of the Atlantic 10 Women's Basketball Tournament, VCU (22-8, 10-7) sent crosstown rival Richmond (14-16, 8-9) on a 10-minute bus ride back to campus with a 61-52 victory.
The game, held Thursday morning at the Richmond Coliseum, featured the two Atlantic 10 teams located closest to the neutral site venue.
Senior forward Robyn Parks paced the Rams with 17 points and nine rebounds. Sophomore guard Jessica Pellechio chipped in 14 points in just 22 minutes.
The Spiders started off the game well, taking a 10-4 lead less than three minutes into the contest.
"Richmond gave us all we could handle," VCU Coach Marlene Stollings said. "Which is what we expected. They're a very well-coached team and they battle."
VCU's defense – nicknamed "fury" then got to work, pressuring the Richmond defense and getting turnovers. The Rams immediately embarked on a 16-2 run, allowing no field goals in eight minutes of game time and eventually leading to a 40-25 halftime lead.
"We started getting stops," Stollings said. "They got a couple good looks right away and we weren't quite in the right spots. In the first few minutes, everyone's getting jitters out, but we were fine. We weren't rattled."
Richmond Coach Michael Shafer blamed the poor first half on his team's inability to handle VCU's defense after the first few minutes of the game.
"We found a way to get some open looks but VCU took that away early," Shafer said. "We allowed that to affect our defense in transition."
VCU continued to have its way with Richmond through the beginning of the second half, culminating in an 18-point lead at the 13:29 mark.
Richmond began to claw back in the latter part of the second half, however. The Spiders went on a run of their own to cut the deficit to just five points with just over four minutes left in the game. They failed to complete the comeback, however, failing to hit a field goal over the final 4:38 of the game.
Much of this effort was led by Senior Kristina King, who finished with 24 points and six boards in 37 minutes of action. However, Shafer credited the improved second half to the team's increased focus on getting junior forward Genevieve Okoro more involved in the offense.
"We made a conscious effort to go to Gen," Shafer said. "We talked about it in practice. If we can't get a shot off on the perimeter or we're taking a contested shot,that means Gen's open."
After allowing 40 to the Rams in the first half, the Spiders held VCU to just 21 in the second half, including holding them without a field goal for multiple three-minute stretches.
Stollings blamed the lackluster second half on her team losing focus on defense and missing shots on offense.
"In the first half we were very active (on defense)," Stollings said. "We were able to sub quite frequently. In the second half, I thought the game in general just slowed down a little bit. We certainly had a couple of lapses defensively, but we also responded and got stops again. We didn't make as many shots so that made the game tighter and slowed things down a little bit."
VCU was able to overcome Richmond's comeback attempt partly due to the efforts of Pellechio, who hit two of her four three-pointers on the day to stop Spider runs.
"As a shooter, you always look for your shot," Pellechio said. "My teammates found me really well today, especially in transition. I wasn't going out there to jack up shots, but if it was there, I was going to take it."
With the win, the Rams now move on to the face top-seeded Dayton Flyers in the quarterfinals Friday at noon. Stollings said her team is excited for the challenge.
"We feel confident about playing Dayton, we feel we match up well against them," Stollings said. "When you get to March, it's a lot more about match ups than about anything else.