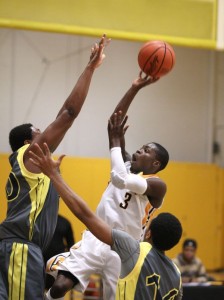 By Paul Gotham
ROCHESTER, NY – The challenge was to beat an opponent for the third team in a season.
The Monroe Community College men's basketball proved worthy of the task.
Tashawn Desir (Brooklyn, N.Y./NIA School) netted a game-high 25 as MCC's Tribunes (22-6/11-1) outlasted the Mercyhurst NE Saints (19-8/5-7), 77-75 in the NJCAA Region III Division II semi-finals on George Monagan Court, Saturday afternoon.
Desir hit 7-of-15 from the floor and 9-of-12 from the free throw line to lead Monroe to back-to-back trips to the regional finals. Monroe's lone returning player hit two free throws and sparked 10-0 run as the Tribs erased a three-point deficit late in the second half.
"We're just trying repeat," Desir said. "I feel like there is a big load on my shoulders."
Saddled with four fouls, TJ Davis (Liverpool, N.Y./Liverpool) came off the bench, followed Desir's lead and drilled consecutive 3-pointers to give Monroe a 64-59 lead.
"It felt like a relief," Davis said of his two shots. "I helped the team out. I contributed."
Anthony Hemingway (Brooklyn, N.Y./NIA School) made it a 66-59 with 6:18 remaining game when he finished a drive from the top of the key using a layup high off the glass.
The run started when Artice Jackson (Owings Mills, MD/Millford Mill Academy) chased down a pair of long offensive rebounds to give Desir a chance to attack the basket and draw a foul.
"It's good to see him grow as a player," Monroe coach Jerry Burns said of Jackson. "We need him to be that mature player. Those rebounds are 50-50 balls. They bring you energy, and they kinda demoralize the other team."
Hemingway used a wing ball screen to get space for a pull-up jumper, and Monroe had its largest lead of the second half at 69-62.
But the Saints responded.
Devonte Isom (Cleveland, OH) connected on a trio of 3-pointers as Mercyhurst regained the lead at 73-72 with 2:44 remaining in the game.
"Any time you play this time of the year it's lose and go home," Burns stated. "Everybody's going to play hard, and both teams played hard."
"That's the best I've seen them play," Burns said of Mercyhurst. "I have to give them all the credit. They did almost everything to win the game…They made some unbelievable shots."
Mercyhurst's lead was short-lived.
Desir converted one of two at the free throw line. Davon Jackson (Odenton, MD/Old Mill) intercepted a pass in the lane and led Desir into the open floor and on to Davis for a layup.
Artice Jackson grabbed a defensive rebound, went the length of the floor for an emphatic flush which brought the crowd to its feet and gave Monroe a 77-73 edge.
"I was just letting the game come to me and playing hard," Jackson said of his effort on the defensive end. "If my offense is not going, I'm going to make sure my defense is going."
It was one of three tremendous dunks on the day for the 6-6 forward.
Mercyhurst's Damon Jones (Cleveland, OH) made it a two-point game with 10.2 seconds remaining on a rebound and putback. The Saints had a chance to take the lead but an Isom 3-point attempt rimmed out and a putback caromed off the window.
"I wouldn't expect anything different from these two teams," Mercyhurst coach David Gahan said of the game decided in the final seconds. "As hard as both teams played, that's what you would expect. It came down to one possession.  Like I told my guy, Damon Jones, he made the right play. We didn't have any timeouts. We knew we had to get it and go…we kicked it out to our best three-point shooter. He was just off the mark."
Hemingway hit 11-of-14 free throws and connected on 4-of-8 from the floor for 19 points. Davis chipped in 11 points, and Artice Jackson had nine.
But this game was more about Monroe's defense than its offense.
"It's start every day in practice," Burns said of his team's defense. "It's something that we preach. When you give up easy baskets, people start to get into the flow. If you can take one or two guys out of the flow, you're going to have a better chance of winning."
Mercyhurst came into the game averaging 98 a game. The Saints had scored 85 or more in each of their last 13 games. The last time Mercyhurst was held under 80 happened on January 7th when Monroe defeated the Saints, 77-68.
Desir credited Burns for Monroe's effort on the defensive end.
"He gets into us about playing defense, about playing hard. At the end of the day, we locked down."
Monroe limited Mercyhurst 33 points in the first half and 42 in the second on 38.4 percent (28-of-73) from the floor including 28.6 percent (8-of-28) behind the arc.
"Honestly, we could have played a little bit better defensively," Desir continued. "The goal is to try and hold a team under 30 points each half. We still could play better defense."
Mercyhurst topped the century mark on 12 previous occasions this season. In three head-to-head games, Monroe held the Saints to 75, 85 and 68 points.
"We had the mentality that nobody gets past us," Artice Jackson explained. "We play hard, and that's the key to winning, defense."
Monroe held a four-point advantage at the half.
Trailing by six, Desir sparked a 14-2 run early in the first half as the Tribunes grabbed a lead they held for the remainder of the half.
The sophomore guard used acrobatics to score in traffic. He grabbed a long offensive rebound and split a pair of defenders for a 13-10 Black and Gold advantage. Manny Joseph (Brooklyn, NY/Midwood) corralled a loose ball after an Andre McFarlane (Queens, NY/North Queens) block and led Desir into the open-court for a layup and one to push the lead to six at 16-10 with 13:27 to go in the half.
Mercyhurst trimmed the lead to one when Ramon Sheffield (Cleveland, OH) scored on the break.
The Tribunes quickly responded.
McFarlane scored in the lane. Desir went the length of the floor for two. Hemingway finished in transition, and MCC led 30-23.
Hemingway converted a pair of free throws to give Monroe a 37-33 lead going into the locker room.
Isom led Mercyhurst with 14. Soutiri Sapnas (Philadelphia, PA) added 13. Sheffield registered a double-double with 10 points and 13 rebounds.
Mercyhurst held a 50-37 advantage on the glass. The Saints outscored Monroe, 16-6 in second-chance points.
Monroe tallied 17 points off turnovers to Mercyhurst's 13.
There were 10 lead changes (nine in the second half) and five ties. Monroe led by as many as seven. Mercyhurst's largest lead was six.
Monroe advances to Sunday's Regional final. They will play the winner of the Erie CC/Genesee CC game.
A 1 pm tip time is scheduled on Monagan Court.
Tyreek Jewell (Jamestown CC) earned Region III Division II Player-of-the-Year honors. Desir joined him on First Team All-Region as did Eli Jones (Niagara County Community College), Fabian MacDonald (Erie CC) and Ervin Mitchell (Genesee CC).
Mercyhurst's Damon Jones and Soutiri Sapnas earned second-team honors along with E.J. Sandoval (Niagara County), Dashawn King (Erie CC) and Naquil Jones (Genesee CC).
Monroe's TJ Davis and Anthony Hemingway joined Gjaimeir Stanford (Niagara County), Alastair Cole  (Genesee CC) and Jordan Street  (Niagara County) on the third team.