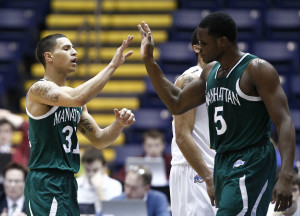 By Paul Gotham
Billy Baron (Canisius) Has scored 30 or more in three of the Golden Griffins last four games. Handed out nine helpers versus Fairfield.
David Laury (Iona) Continues to thrive off the bench for the Gaels scoring 14.2 with 7.6 boards a game.
Michael Alvarado (Manhattan) May be the most underrated player in the northeast. Jaspers tempo on offensive and defensive end runs through him.
Ike Azotam (Quinnipiac) Seventh nationally in rebounding with 10.7 a game. Listed as a generous 6-7.
George Beamon (Manhattan) – Paces the Jaspers with 19.9 a game or 25.5 per 40. Also gets 1.5 steals a game.
Rob Poole (Siena) – Could challenge the Dow Jones for inconsistency, but has scored double figures in 7 of last 10.
Sean Armand (Iona) – 16th in nation hitting 43.1 percent behind the arc and has dished out 97 assists.
Ousmane Drame (Quinnipiac) – Bobcats have won seven straight. Drame has double-digit rebounds in five of those wins. Any connection?
Chris Perez (Canisius) His ability to create off the dribble gives Canisius a much needed compliment to Billy Baron.
Antoine Mason (Niagara) – Second in the nation netting 25.7 a game.
Other notables: Rhamel Brown (Manhattan), Chris Manhertz (Canisius), Umar Shannon (Quinnipiac), A.J. English (Iona), Zaid Hearst (Quinnipiac), Anthony Myles (Rider), Brett Bisping (Siena), Chavaughn Lewis (Marist), Marvin Dominique (St. Peter's), Emmy Andujar (Manhattan)
Top Freshmen: Khallid Hart (Marist), Zach Lewis (Canisius), Lavon Long (Siena), Trevis Wyche (St. Peter's), Phil Valenti (Canisius)
Player Efficiency Rating