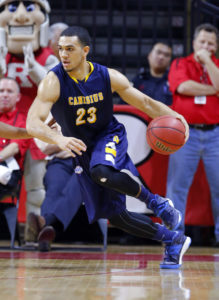 By Paul Gotham
SANBORN, N.Y. – If one wants to know the tendencies of the top perimeter scorers in the Metro Atlantic Athletic Conference, Chris Perez is the best resource.
From George Beamon, to Sean Armand, Chavaughn Lewis and Antoine Mason, Perez has faced them all. Though the numbers may not bear it out (Beamon scored a bulk of his 27 in transition and against the Canisius zone), Perez has proven himself as the MAAC's premier perimeter defender.
Friday night, Perez turned the tables. Faced with the task of having to slow the nation's leading scorer, Perez not only got the job done on the defensive end, he supplied the offense Canisius needed.
The native of the Dominican Republic held Niagara's Antoine Mason more than nine points under his season average and matched his counterpart's point total while taking 10 fewer shots.
"Perez did a heckuva job," Canisius Head Coach Jim Baron noted. "He really took it to him. We were attacking him with Perez. He didn't want to get into a physical match and not foul."
And he scored when his team needed him most.
The Griffs best inside threat, Chris Manhertz, was sidelined with a broken nose.  Starters Jordan Heath and Phil Valenti faced early foul troubles. Niagara easily could have focused their defensive efforts on Billy Baron.
Instead Perez forced the Purple Eagles to pay attention to him. He scored 17 on 6 of 13 shooting for the night including 10 crucial second-half points as the Golden Griffins erased a double-digit deficit.
None more important than his basket in the lane to give the Griffs a 65-63 lead with 51.2 seconds remaining in the game.
"I told Billy (Baron) at the end 'give me a shot with the ball. I'm gonna try and score,'" Perez stated. "Billy trusted me. He gave me the ball, and I was able to score."
The graduate student put his team in position to win in the final moments. He scored six and dished out an assist in a Canisius run midway through the second stanza which erased an 11-point Niagara lead.
Trailing 44-33, his jumper ignited the comeback. On the next possession, he corralled an offensive rebound and fed Billy Baron for a catch-and-shoot three. He converted a pair of free throws, and his one-handed runner over Mason trimmed the gap to one at 61-60.
"I knew he was going to want to play the whole 40 minutes of the game, so he was going to be careful how he played defense," Perez said of Mason.
His two free throws knotted the game at 63 setting up his shot which gave the Blue and Gold a lead it never surrendered.
"I can live for the rest of my life saying you know we got 'em twice here," Billy Baron stated. "Chris Perez really bailed us out tonight. He said he wanted the ball. He got it, and he scored."
At the same time, Perez limited Mason to 4 of 13 shooting after the break including just one field goal in the game's last 10 minutes – a span in which Mason missed three attempts and committed two turnovers.
"Chris Perez did a fantastic job especially in the second half of shutting him down," Billy Baron stated. "He really bulldogged him the whole second half."
Perez wasn't so willing to take all the credit.
"I knew coming into the game that he was going to take a lot of shots. Coach Baron challenged me the past couple of days to play good defense. I took it to heart. I told Billy and the guys that I was going to need them today to help me out with Mason because he is such a great scorer. Overall, it was a team defense. They all helped me out."
Canisius (17-9/11-4) travels to Siena Sunday afternoon looking to win and keep pace with first-place Iona and Manhattan who they are tied with in second. A 2 pm tip time is scheduled. The game will be broadcast on the Time Warner Sports Channel.