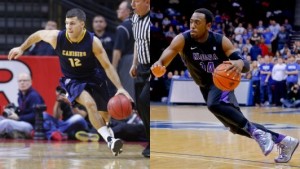 By Paul Gotham
LEWISTON, N.Y. — They have met 173 times in the past, but nothing quite like this.
There will be little amour shared (save for love of the game) this Valentine's Night when the Canisius Golden Griffins (16-9/10-4) meet Niagara's Purple Eagles (6-19/3-11) in front of a national television audience at the Taps Gallagher Center.
Billy Baron and Antoine Mason, two of the top five scorers in the nation, lead teams at near opposite ends of the food chain.
Both were highlighted last weekend during ESPN's College GameDay when Jalen Rose drafted Baron for his team and Jay Bilas tabbed Mason.
Baron paces Canisius, netting 23.6 a game (fifth in the country) while dishing out 4.9 assists, grabbing 4.9 rebounds.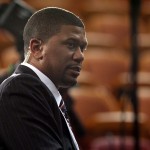 "Twenty-three and a half, five and five – not too many people in the country, if any, can boast that because nobody else can," Rose said by telephone.
Baron connects 44.8 percent of the time (81 of 181) behind the arc.  He has averaged 24.3 in three meetings with Purple Eagles.
"He's been lights out from three," Rose added. "As a senior, he is definitely leading this squad."
Mason tops the nation with 26.3 points. He accounts for 34.3 percent of NU's offense and netted 29 points when the teams met on January 22.
"That's tough sledding in any conference," Rose said of Mason's numbers. "You'd like to see him shoot better than 30 percent on threes, but he's doing what he does. He's a flat out scorer."
Last time the Golden Griffins and Purple Eagles met, the leading scorers went head to head…literally.
As Mason went off the dribble, Baron got his feet tangled with those of a teammate. The two collided noggins. Baron got the worst having to leave the game. He returned with six stitches in his forehead having missed less than four minutes of game time. He scored 15 points in the remaining 15 minutes.
Canisius has taken two in a row in the series for the first time since 2001, this after Baron's buzzer beater was ruled no good in a 66-65 Niagara win on January 27th, 2013.
Niagara leads the all-time series 96-77. The teams have gone to overtime on 18 occasions with each squad getting nine wins.
"I know some people are going to say both are playing in the  Metro Atlantic Athletic Conference, and it's no big deal," Rose continued.  "That's why it was fun for us to do that draft. It's going to be a great game tonight. I will be tuning in looking for these guys to light it up. Big Shot Antoine, but go Billy Baron."
A 9 pm tip time is scheduled. The game will be televised on ESPNU.