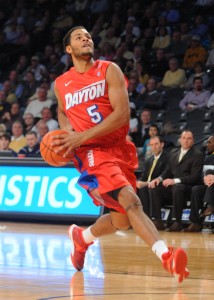 By Paul Gotham
ST. BONAVENTURE, N.Y. – Spending 17 of 20 first-half minutes on the bench can leave a player feeling restless. Especially when it is a senior co-captain accustomed to logging a team-leading 29-plus minutes a game.
Such was the case for the University of Dayton's Devin Oliver on Saturday night. Less than two and half minutes into Dayton's Atlantic 10 Conference game at St. Bonaventure, Oliver was whistled for his first foul. Thirty seconds later, Oliver earned his second infraction and a trip to the bench alongside head coach Archie Miller.
The senior forward averaging 12.2 along with a team-leading 6.8 rebounds and 2.3 assists sat and watched and waited.
When he finally got his chance, the Kalamazoo, Michigan native made good on the opportunity…and then some.
Oliver netted all 15 of his shared team-high points in the final 10:39 including four pressure free throws as the Flyers rallied from seven down to defeat St. Bonaventure 72-69.
"He had one of the rougher games you can go through as a player," Miller said of Oliver's effort. "He had no rhythm at all. His first two fouls were very quick. As a player you can cash out right away, but to his credit he did not. He stuck in there. He kept battling."
Oliver's first basket of the night pulled UD within two at 50-48. It was a leaner from just outside the lane. Little more than a minute later he drilled a long 3-pointer that might have been called a heat check had he actually had time to warm up.
He must have known something that the 5,344 in attendance did not.
"Once he got a couple of things to go well, he was in the flow of the game," Miller added.
Less than three minutes later he grabbed his own miss and converted. His tap in with 5:55 to go made it a 60-57 game. He used an upfake and a dribble to create space for a pull-up jumper and knotted the score at 64 with 2:59 remaining.
"He had some big shots," Miller continued. "It's nice to see a kid like him play that way in February."
None of his shots were bigger than the four Oliver hit from the free throw line in the game's final 12 seconds. With a raucous Bona student section doing all it could to distract him, Oliver calmly converted on a pair of one-and-one situations to seal the win.
"You can't miss those," Oliver stated. "You miss those and those are ones you think about for months after."
Oliver's first two from the charity stripe gave UD a 70-67 edge.
Looking to prevent a tying 3-pointer, the Flyers elected to foul. Bona's Charlon Kloof was the recipient and promptly connected twice to narrow the gap.
Oliver went back to the line with 7.7 seconds on the clock. The frenzied student section less than 30 feet away trying to divert his attention but instead helping his focus.
"Actually it was a little more comforting for me," Oliver said of the close quarters on Bob Lanier Court. "It kinda gave me a little bit of a high school feeling."
The left-hander drilled both attempts.
"Those are the money balls right there," Miller said.
"It just comes down to you're a senior captain on the team," Oliver explained. "Those types of free throws you got to make."
The Bonnies failed to convert on their final possession.
Oliver, who came in averaging 16.9 points per 40 minutes, finished with 15 in 18 minutes.  He grabbed four rebounds including three on the offensive glass. Twice he converted those boards into second-chance points.
"It was probably the earliest foul trouble I've ever been in my life. My teammates fought all the way through to the second half."
"It was probably one of the best 15-minute runs I've ever seen," Miller said.
Fellow senior Vee Sanford also scored 15.
For the Flyers (16-8/4-5) it was their third straight win after dropping four consecutive. UD will host Rhode Island, Wednesday night. A 7 pm tip time is slated.