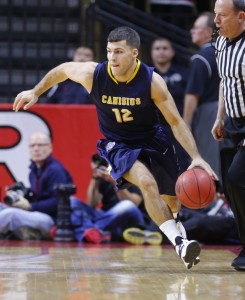 By Paul Gotham
BUFFALO, NY – Billy Baron left one on the table Sunday afternoon.
On a day where he took handoffs, turned down ball screens, scored in traffic, dropped a floater in the lane, threaded passes to teammates and hit a shot from just inside the gymnasium doors, the senior guard left one for the taking.
Maybe more evidence of his flair for the dramatic.
With 34 seconds remaining on the clock and the game well in hand, Billy Baron exited to a standing ovation from the 1,742 in attendance having matched his career high of 38 points.
The Koessler Athletic Center record of 39 (Craig Prosser) still stands.
Surely the senior guard could have claimed the record in the time remaining.
Maybe it's better left for another day. Maybe it will be a sweeter accomplishment if Baron nabs 40 against the likes of Manhattan or Iona or Quinnipiac – three of the other top four Metro Atlantic Athletic Conference teams. All of whom visit Main Street Buffalo in the month of February.
Enticing isn't it?
Reason to venture out into the winter weather?
Make no mistake anything seems possible with this kid.
Billy Baron and the Canisius Golden Griffins sit atop the MAAC standings tied with the Iona Gaels at 8-2. With 14 overall wins and at least 11 contests remaining on the ledger, 20 wins in consecutive seasons seems realistic. A feat Canisius basketball hasn't accomplished since a guy by the name of Beilein roamed the sidelines in the mid 90s.
Baron has scored 30 or more five times this season and eight overall in his two years for the Griffs. He is third in the country scoring 24.2 a game and is now averaging more than 20 in his Canisius career. He has hit a pair of buzzer beaters, taken MAAC Player of the Week honors twice this season and on four occasions over the past two years, and his name is on the Bob Cousy Award Watch list for the top point guard in the country.
And yet there is no sign he is content.
"I just wish more people could get a chance to see him," Canisius Head Coach Jim Baron said. "He's a very unique guard. He's a special player."
Billy Baron's effort Sunday afternoon came against the Marist Red Foxes and first-year head coach Jeff Bower who spent the past 15 years working as an executive in the NBA.
"He's a winner," Bower said. "He's got skills. He's got size. He's got deep shooting ability. He's got playmaking ability. He is a competitor. Those are qualities every NBA team would value and will do their research and see."
Bower is the second MAAC coach to have suggested Baron can move on to the pro ranks.
Earlier this season, Siena's Jimmy Patsos commented: "Baron has a chance to play in the NBA. I think Billy Baron could be a backup point guard in the NBA. He really knows how to play and stuff."
Patsos spent 13 seasons as an assistant under Gary Williams at the University of Maryland. He worked with current NBA player Steve Blake and got up-close views of stars such as Chris Paul and Tim Duncan.
The Griffs head out on the road for their next two. They return home to host Manhattan on Friday, February 7th – a 7 p.m. game which will be nationally televised on ESPNU. They host Iona two days later.
In another nationally televised game, Canisius travels to Niagara to do battle with Antoine Mason  (the nation's leading scorer) and the Purple Eagles on Valentine's Day.  A 9 p.m. tip time is scheduled.
Quinnipiac visits Buffalo on the 20th and Fairfield on the 22nd.
"When he's gone, you know how many people are going to say 'Hey! I was at the game, and they weren't,' Jim Baron stated. "I can count him right here. Where we you? I didn't see you at the game. I know everybody who was at today's game."
Paul Gotham is the founder, owner, editor and lead writer at Pickin' Splinters. Paul is the Communications and Media Director of the New York Collegiate Baseball League.  He is a contributor at USA Today and member of the USBWA. You can follow Paul on Twitter @PickinSplinters.