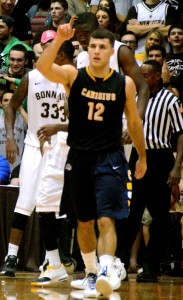 By Paul Gotham
BUFFALO, NY – What Billy Baron started, the rest of the Golden Griffins finished.
And in the process Canisius kept its undefeated mark at home in tact.
Billy Baron matched a career high and paced a quartet in double digits as Canisius (14-7/8-2) defeated the Marist Red Foxes (6-14/3-7), 78-65 in Metro Atlantic Athletic Conference action at the Koessler Athletic Center Sunday afternoon.
Baron finished with 38 points on 12-of-23 shooting including 5-of-11 behind the arc and 9-of-10 at the free throw line. The senior netted the Griffs first eight points of the game and tallied nine in what proved to be a decisive 13-0 run to close the first half.
After trailing by as many as nine points, Baron gave Canisius a lead it never surrendered when he took a handoff from Chris Manhertz at the top of the key and drilled a 3-pointer. On the next possession, he hit one of two free throws, and the Griffs led 21-20.
"It's the second game in a row where we've gotten that play," Baron said. "He's (Manhertz) done a great job of handing off to me, and I know when people hit his body, they're going to bounce right off him, and I'll have that space to shoot."
The pair combined moments later as the Blue and Gold took command of the game.
Manhertz set a ball screen above the three-point arc, and Baron drew the defense before turning down the pick, going opposite and pulling up for his third trey of the first stanza. Manhertz took a charge on defense and converted a three-point play the next trip down the floor.   On the next possession, Baron pulled up from 25 feet for a heat-check three over the outstretched arms of Marist's Chavaughn Lewis.
"He shot some deep ones, and he got going," Lewis commented. "Once a shooter like him gets going, it's really difficult to contain him."
Baron capped the half with three free throws, and the Griffs led 38-24.
"Whatever it takes to get a win," Baron stated. "I knew I had to be extra-aggressive with them coming out hot. Shots were just falling. Teammates were setting me up."
Baron picked up where he left off in the second half hitting a running floater in the lane. He followed with a steal and lead pass to Chris Perez for a layup and a three from the top of the key for 45-26 bulge with 17:34 remaining.
"That's what he does," Canisius Head Coach Jim Baron said.  "He's aggressive. He attacks the basket."
Manhertz and Perez grabbed the baton from there.
Perez hit a turnaround jumper in the lane.  The senior guard from Santiago, Dominican Republic ran down a long rebound and went the length of the floor for a layup.
Manhertz converted back-to-back rebound and putbacks – the second part of another three-point play to keep Canisius ahead at 60-47.
"Perez and Manhertz took over in the second half," Jim Baron stated. "That was huge. We needed them to do that. That's the tough part about it. We need everybody to be ready. This was definitely a team victory."
After surrendering late leads earlier in the season, the Griffs made good on a double-digit lead for the second time in as many games.
"I told them 'it was zero-zero at halftime,'" Jim Baron explained. "I don't care if we were up 14. We really got to defend. We really got to rebound. We gotta step in take charges because they were really going to drive the ball. Our guys did a real good job with that."
Perez finished with 14 on 4 of 7 shooting and 6 of 6 free throws.
"Every second half we just got to keep playing strong," Perez stated. "If we want to be a championship team, we have to play both halves the same way."
Manhertz tallied 13 points. He corralled a team-high nine rebounds. The senior forward now has 707 career boards and is the ninth player in school history to surpass the 700-rebound plateau.
Baron netted 30 or more for the second time in as many tries. It was his fifth 30-plus game this season and eighth in his time with the Griffs. Baron scored 38 earlier this month in a 94-91 double overtime triumph of Rider. He left the game with :34 remaining to a standing ovation from the 1,742 in attendance.
Marist looked ready to knock off the Griffs from the opening tip.
Jay Bowie nailed a fall-away three from the left corner to start the Red Foxes. T.J. Curry finished a layup in the open floor. Lewis hit a runner across the lane, and Khallid Hart converted a steal and layup for an 11-2 Marist lead with 14:56 remaining in the half.
"Give them all the credit in the world for how they played," first-year Marist head Coach Jeff Bower said. "We competed very hard. We never surrendered or backed down. The cushion at the half was a trouble spot."
Lewis led Marist with 18 and a game-high four assists. Hart added 17, and Bowie chipped in 12 and a game-high 12 boards.
Last time out, Canisius defeated Niagara 87-74 after leading by 14 at the break. Canisius surrendered a late lead in an 83-82 loss to Monmouth. The Griffs led Iona by 20 before falling behind and rallying for an 85-83 win on January 17th.
With the win, Canisius keeps pace with Iona (11-8/8-2) atop the MAAC standings.
The Griffs play at Quinnipiac (12-7/7-3) Thursday night before traveling to Fairfield (4-17/1-9) on Saturday.
Thursday's tip is 7:30 p.m. The Griffs' game at Fairfield is scheduled for 1 p.m.
Canisius avenged an earlier 65-62 loss to Marist on January 6th.
The Griffs are 8-0 at home.
Canisius returns home on February 7th to play Manhattan (14-5/7-3). The game will be televised on ESPNU. A 7 p.m. tip is scheduled.
Paul Gotham is the founder, owner, editor and lead writer at Pickin' Splinters. Paul is the Communications and Media Director of the New York Collegiate Baseball League.  He is a contributor at USA Today and member of the USBWA. You can follow Paul on Twitter @PickinSplinters