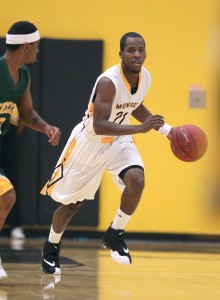 By Paul Gotham
ROCHESTER, NY – Monroe Community College's men's basketball team lost the opening tap Saturday afternoon.
That was one of the only occasions the Tribunes came up short.
Marcus Gooding (Brooklyn, NY/ Franklin Delano Roosevelt) led three Tribunes in double figures as Monroe CC (16-5/5-0) defeated the No. 9 Niagara County Community College Thunderwolves (19-2/3-1), 87-76 in Western New York Athletic Conference action on George Monagan Court, Saturday afternoon.
With Niagara County using a couple different zone looks on defense to build an early six-point advantage, Monroe Head Coach Jerry Burns went to his bench and received the desired result.  Gooding entered the game and melted the snow outside the Samuel J. Stabins Physical Education Complex with his hot shooting.
"All he is hoping every game is that they come out in zone," Burns said. "If they come out in zone, he knows."
The sophomore guard drilled 3-pointers on the first two touches he had. He took an inbound pass and connected from the left corner. On the next possession, he grabbed a lead from Damon Miraud (Elizabeth, NJ/Elizabeth) on the break and hit.
"They were all good shots," Burns added. "They were all rhythm shots. He did a really nice job of understanding."
Gooding finished the game with 16 points in 16 minutes of playing time. He hit 3-of-5 behind the arc and 7-of-9 from the free throw line.
Burns explained how Gooding is learning his role in the Monroe offense.
"Breaking people down (off the dribble)? That's not his role. When he's open, shoot it. That's all we want him to do. Especially when he sees zone."
Gooding sparked what would be decisive a 20-3 run when four different Tribunes found the measure from long range.
With the Tribs in a full-court press, Miraud picked a Niagara County inbound pass and fed Tashawn Desir (Brooklyn, NY/NIA School) who in turn led Isaiah Davis (Elizabeth, NJ/Elizabeth) for three and a tie  score at 16.
Monroe never looked back.
Desir hit for three. TJ Davis (Liverpool, NY/Liverpool) joined the parade from the right corner, and MCC led by eight at 26-18 with 9:26 left in the half.  Desir drilled another, Hemingway hit one of two from the free throw line, and Monroe pushed its advantage to double digits at 30-19.
Monroe took a 14-point lead for the first time in the game when Davon Jackson (Odenton, MD/Old Mill) and Gooding converted four of four attempts from the free throw line for a 43-29 advantage.
Using a full-court press back to a zone defense, the Tribs stretched the advantage again. This time they led 49-35 when Gooding connected for his third trey of the first stanza.
"Our strength is we got to  go," Burns continued. "We got to run.  We got to rebound. We got to defend. It's just the style we play, and it worked out real well for us."
Niagara County jumped out to an early six-point edge. Chuka Ikpeze (Rochester, NY/Bishop Kearney) converted a rebound and putback. Sheldon Zablotny (Erie, PA/Cathedral Prep) finished a drive across the lane, and Jordan Street (Niagara Falls, NY/Niagara Falls) completed a pair of three-point plays. Niagara County led 16-10 with 14:12 left in the half.
Niagara never cut the margin to single digits in the second half.
The Tribs pushed the lead to as much as 19 after the break. TJ Davis and Desir scored on back-to-back layups for a 75-56 Monroe advantage.
Ten different Tribunes played ten or more minutes with no single player logging more than 26 minutes. All ten contributed to the scoring.
"I would have no problem taking the second five guys and playing anybody," Burns stated.  "That's what we can do. We're really fortunate. Occasionally one or two guys will get left out of the mix. Because you have ten guys, I am afforded the luxury."
Isaiah Davis matched Gooding with 16. Monroe's leading scorer with 13.5 a game hit five shots from the floor and two 3-pointers to go with a perfect 4-of-4 at the charity stripe.
Desir added 13 and shared a game-high four assists.
TJ Davis grabbed a team-high seven rebounds.
Monroe finished with 14 assists on 25 field goals.
TJ Davis, Miraud and Manny Joseph (Brooklyn, NY/Midwood) each tallied eight points.
Zablotny accounted for a game-high 20 points with four helpers. Street and Eli Jones (Fairport, NY/Fairport) chipped in 16 apiece for Niagara County. Jones led all with eight rebounds.
The Thunderwolves came in winners of six straight.
The win marked the second time this year the Tribunes have knocked off a ranked opponent.  The Black and Gold won at then No. 4 Mercyhurst NE, 77-68 on January 9th. Monroe has won nine consecutive.
"I really don't follow those rankings," Burns stated.  "Either you're good or you're not good. I know there are some good teams that are not ranked, but they have played a brutal schedule. Erie is not ranked, and Erie is good."
The Tribunes travel to Erie Community College to take on the Kats, Tuesday night. Tip time at the Flickinger Center is scheduled for 7:30 pm.
Paul Gotham is the founder, owner, editor and lead writer at Pickin' Splinters. Paul is the Communications and Media Director of the New York Collegiate Baseball League.  He is a contributor at USA Today and member of the USBWA. You can follow Paul on Twitter @PickinSplinters.