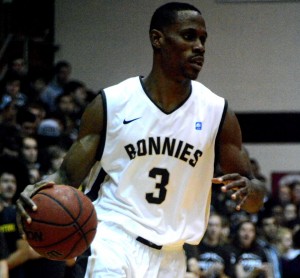 By Taylor Nigrelli
ST. BONAVENTURE, NY — After a litany of close calls against superior Atlantic 10 opponents over the past two years, the Bonnies (12-7, 2-3) were finally able to close out as they defeated the La Salle Explorers (11-7, 3-1) 66-51 Wednesday night.
"That was the best that we've played all year," Head Coach Mark Schmidt said. "We talked about finishing, that's a game that we finished. We played for 40 minutes. It was a game that we needed, and we came through."
After a slow start to the game, Schmidt made the decision to make the switch a zone defense. The Bonnies turned their 19-11 deficit into a 15-point win, while outscoring La Salle 55-32 over the last 29 minutes of the game. Schmidt credited this turnaround to the defensive switch.
"From a coach's standpoint, they're a team that, if they get comfortable with you, you're in trouble, Schmidt said. "We just tried to change some stuff. We went to the 1-3-1 and then the 2-3 zone. And I think that helped keep them off-balance."
The Bonnies came out in zone for the second half but switched after La Salle hit three-pointers on back-to-back possessions. The team played man-to-man for most of the rest of the game. This seemed to work as the Bonnies held the Explorers without a field goal for over nine minutes, ending with a last-second field goal to put La Salle over 50 points.
Schmidt was impressed with his team's ability to shut down such an offensively-versatile team.
"To be able to keep those guys down – Duren's an all-league player, Garland is playing well and we held Mills to no points," Schmidt said. "I also thought our big guys did a good job down low. Not allowing the ball to go inside…I thought that was big."
The Bonnies snapped a three-game losing streak that saw them blow halftime leads to UMass and George Washington. Senior guard Matthew Wright said the team felt relieved to have finally defeated a tough conference foe.
"Honestly, if we lost this game, I wouldn't be able to take it," Wright said. "The last three games have been really hard physically, but more mentally…enough was enough today."
The St. Bonaventure big men did an admirable job keeping the La Salle duo of forward Jerrell Wright and center Steve Zack off the score sheet. The duo, considered one of the more dangerous in the A-10, combined for just nine points and 11 rebounds.
"I thought our big guys did a good job keeping the ball out of the paint," Schmidt said. "They didn't allow the big men to dominate which would've shrunk our defense."
Senior guard Charlon Kloof had quite a game himself. The team's primary ball-handler finished with 18 points, seven assists and six rebounds. Kloof said he felt a responsibility to create offense for the Bonnies.
"Before the game, my teammates and coaches really motivated me and told me that I needed to attack for us to (win)," Kloof said. "We really played off of each other and that really opened the lane for me and it let me score."
Senior Marquise Simmons (10) and Wright (10) joined Kloof in double figures. Sophomore Dion Wright added eight points and nine rebounds.
Another key to the St. Bonaventure victory was holding La Salle's best three-point shooter, guard Sam Mills, to no points.
The Bonnies will take the court again Saturday when they travel to Pittsburgh to take on Duquesne at 7 p.m.