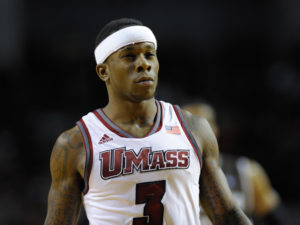 By Paul Gotham
Derek Kellogg knows well the challenges presented by the Atlantic 10 schedule. The fifth-year coach of the No. 15 UMass Minutemen (14-1/2-0) is also aware that his current team has NCAA Tournament potential.
Meeting those possibilities requires passing tests, and UMass will get one of those challenges when they take the court tonight at George Mason.
"It might not be bad that we're going on the road," Kellogg said during the Atlantic 10's weekly conference call. "Teams are made on the road. You can really get a good test of your team's character."
UMass needed a pair of second-half rallies at home when opening conference play last week.
"We have to do a better job of putting the whole package together for a full 40," Kellogg added. "The guys realize what's at stake and how teams are playing against us. It's staying focused and being committed to what we're trying to do."
The Minutemen turned a nine-point deficit with 6:23 remaining into a four-point win over St. Joseph's to open the week on Wednesday. Three days later, they trailed by as many as 13 in the second half before beating St. Bonaventure by five.
"We're fortunate to be 2-0. I keep reiterating how good the conference is," Kellogg continued. "Even though we're getting respect with the RPI, I don't think people understand nationally how good these teams are."
UMass moves on to an opponent in George Mason (7-9/0-2) who, if nothing else, is desperate. The Patriots led late before falling to St. Joseph's at home 84-80 Saturday night. The Patriots opened the week with a loss to VCU.
George Mason head coach Paul Hewitt knows what his team is up against.
"UMass is the type of team that is really going to test you," Hewitt said during A-10 conference call.  "If you don't box out every single time, if you don't get back in transition defense, if you don't take care of the basketball, they'll make you pay."
Hewitt also understands how important it is to slow down UMass point guard Chaz Williams.
"The kid's fearless," Hewitt commented. "He's a tough kid. Like all good players he makes big plays at the most important times. He plays his best in the most important situations or games."
Williams was injured late in Saturday's game. He had an MRI early in the week. Results came back negative.
UMass went 12-1 against a non-conference schedule ranked No. 1 by ESPN, No. 7 by CBS, No. 8 by RealTime RPI, No. 13 by Stat Sheet, No. 19 by Jeff Sagarin and No. 39 by Ken Pomeroy.
They currently rank top five in a variety of Ratings Percentage Indexes (RPI).
A 7 p.m. tipoff is scheduled at the Patriot Center. Sports New York (SNY), Maryland Sports Network (MASN) and the New England Sports Network (NESN) will all televise the game.