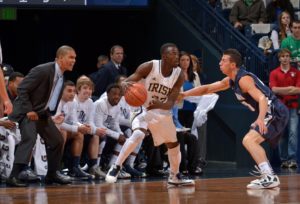 By Paul Gotham
BUFFALO, NY – This is a story about the one that got away.
No, it's not a fish tale.  Although it could be amusing to imagine Jim Baron and King Rice setting aside time from their hectic schedules as college basketball coaches and wetting a line.
Rather this is a story about a prized recruit and an assistant coach trying to make his way in the competitive world of college basketball.
It was the mid 1980s, and the University of Notre Dame under Digger Phelps had made three consecutive trips to the NCAA Tournament. Notre Dame's star point guard, David Rivers, was entering his senior season. The Fighting Irish needed someone to step into the role of primary ballhandler upon the departure of Rivers.
That is where King Rice enters the picture. He is the one who got away. Rice was a High School All-American growing up near the Pennsylvania border in Binghamton, New York.
Baron was an assistant coach at the University of Notre Dame working under Phelps. He didn't need a GPS to navigate the Southern Tier of New York State. Baron played four years at St. Bonaventure University just west of Rice's hometown. During his senior season, Baron was captain and point guard of the St. Bonaventure team which won the NIT.
Baron made his way to Binghamton to meet Rice and his family.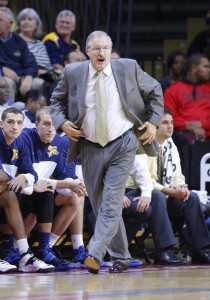 "He did everything the right way," Rice recalled.  "He was about our family. He cared about my parents. He cared about who we were and where I was coming from. People don't recruit you like that. He was there for a long time trying to get me to come, and I always respected him for that."
Baron had allies within Rice's family.
"I'm Irish. My mom's Irish," Rice said.  "My whole life I grew up (with former Notre Dame basketball player) Kelly Tripucka and them dudes. Notre Dame football was on in our house every Saturday. My mother and my grandma were hoping."
Rice visited Notre Dame. Timing didn't work in Baron's favor.
"I was just a young kid," Rice said. "I had never really been out of Binghamton before."
Rice would have been the heir apparent to Rivers, who had only recently recovered from a near-tragic car accident. The two careers would have overlapped by a year.
Rice didn't get a chance to meet Rivers. He wasn't on campus during Rice's one official visit. Perhaps his Notre Dame teammates were being loyal to Rivers.
"The other kids weren't as warm."
With that he made his decision to attend the University of North Carolina and play for Dean Smith. As a senior he hit four free throws in the final minute of the Regional Final to propel the Tar Heels to the 1991 Final Four.
But something happened along the way. Rice didn't follow Baron to Notre Dame, but he never forgot the young assistant coach.
Since then Rice has served as an assistant at Oregon, Illinois State, Providence and Vanderbilt.
Baron left Notre Dame for the head job at St. Francis (Pa.). He led the Red Flash to the only NCAA Tournament appearance in school history. From there he returned to St. Bonaventure where he stayed nine seasons before taking over a struggling Rhode Island program.
Despite the distance, Rice kept in touch. When his own son began taking an interest in the game, he called Baron's oldest sonny Jimmy, who had scored 38 against UNC arch-rival Duke, to teach the younger Rice how to shoot. When Baron's youngest son, Billy, came of age, Rice, then an assistant at Vanderbilt, recruited him. Rice has also sought out the elder Baron's advice.
"There's just so much respect I have for their family and Coach Baron," Rice stated.
On Sunday, the two met as peers — Baron in his second year as head coach of the Canisius College Golden Griffins, Rice in his third season at the helm of the Monmouth Hawks.
"King is a great guy," Baron said. "He's a great coach and will do a good job…they are team to reckon with."
Billy Baron scored a game-high 26, dished out six assists and grabbed eight rebounds. Canisius defeated a young Monmouth squad, 87-67.
"I wish we played better," Rice commented. "I thought we had a good plan. We just ran into some older, stronger kids."
Sunday's victory was number 420 in Baron's 27-year career. Ironically, he surpassed Phelps with the win in all-time victories.
"It's a milestone beating my former boss's record," Baron said.
He matched his former boss two nights earlier when the Golden Griffins downed Phelps's alma mater, Rider, in double overtime.
What is it that they say about a small world?
Baron and Rice forged a relationship within the world of basketball. Time and distance have only added to it.
Paul Gotham is the founder, owner, editor and lead writer at Pickin' Splinters. Paul is the Communications and Media Director of the New York Collegiate Baseball League.  He is a contributor at USA Today and member of the USBWA. You can follow Paul on Twitter @PickinSplinters.