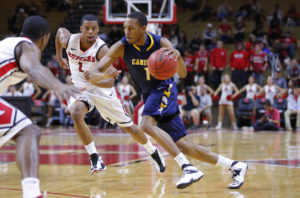 By Paul Gotham
BUFFALO, NY – One man's junk is another man's treasure.
Billy Baron saw plenty of junk defenses Sunday afternoon.  Freshman teammate Zach Lewis reaped the benefits.
Baron and Lewis combined for 51 points as the Canisius Golden Griffins (11-6/5-1) downed the Monmouth Hawks (9-8/2-4), 87-67 in Metro Atlantic Athletic Conference action at the Koessler Athletic Center.
Baron, ranked sixth in the nation averaging 22.7 points a game, drew the focus of the Monmouth defense which gave him a combination of looks including box and one, run and jump and half-court traps.
Lewis took advantage.
"I told him when they were running those junk defenses, 'sit there in the opposite corner,'" Baron said. "I'm going to find you. They doubled me, and they left him open a few times."
Making his second start in a row, Lewis netted a career high 25 points.
"The fact that these guys are trusting me to even take those shots as a freshman I'm definitely feeling real comfortable out there," Lewis commented.
The duo scored 22 points as Canisius grabbed a 39-29 lead at the half. Baron scored 14 hitting 5 of 7 including 3 of 5 behind the arc. Lewis scored eight hitting his first two behind the arc and a pair of free throws.
But the two were just getting warmed up.
Baron and Lewis paced the Griffs to a 20-point second-half bulge.
Baron took a feed from Phil Valenti and drilled a catch-and-shoot trey. Chris Perez drew the defense with the dribble and hit Lewis for 3 from the top and a 55-40 advantage with 12:23 remaining.
Monmouth tried to nibble away at the deficit, but the Griffins responded.
Baron came off a baseline screen and took a Chris Manhertz lead for another catch-and-shoot trey. He followed with a pair of free throws. Jordan Heath took a long lead from Baron and finished a layup.
Baron fed Lewis for back-to-back three balls, and a 73-52 Canisius advantage with 5:41 remaining.
"We wanted to slow Baron down, and the other guys really played," said Monmouth coach King Rice. "They were a buzz saw today. Billy just calms everybody down."
Any chance the Golden Griffins suffered ill effects from Friday night's emotional double overtime win over Rider were quickly dispelled.
The Griffs used their long-range attack to grab an early double-digit lead. Lewis took a feed from Chris Perez and drilled a 3-pointer from the right wing. Jordan Heath nailed a trifecta on the next possession.
Perez used the glass and hit a runner in a 2 on 1 advantage situation. Josiah Heath scored on a tap-in. Billy Baron grabbed a loose ball, went the length of the floor, and Canisius led 18-8.
Especially coming off an emotional game against Rider I was really, really concerned about Monmouth," Canisius coach Jim Baron said. "It was going to be a really big, team effort and we got that."
Monmouth trimmed the deficit to five.
Justin Robinson hit a pull-up three on the break. Chris Brady used the rim as a screen and scored. Josh James drilled a trey, and the Hawks trailed 27-22.
The Griffs finished the half on a 9-4 clip for a ten-point advantage.
Billy Baron drilled back-to-back triples and Lewis added a bomb at the buzzer for a 39-29 Canisius lead.
The Griffs finished the game with 20 assists on 26 field goals.
"We really did a great job sharing the basketball," Jim Baron said.
After shooting 54.7 percent (29 of 53) in Friday night's double overtime win, the Golden Griffins hit 49.1 percent (26 of 53) in the win over Monmouth.
Lewis hit 7 of 10 behind the arc.
"He's a really good player," Rice said of Lewis. "He's bouncy. He can guard. He's got an edge."
Baron netted 26 points on 8 of 12 shooting. He added a game-high eight rebounds. He along with Perez shared game-high assists with six. In his last three games Baron has scored 91 points, grabbed 22 boards, dished out 17 assists while committing just four turnovers.
"He's unbelievable," the elder Baron said of his son. "They put everything on him."
Perez added six points and four rebounds. He also held Monmouth's leading scorer, Deon Jones (15.9 points a game) to six points.
Jordan Heath chipped in 14 points, seven rebounds, three steals and three blocks.
Josh James led the Hawks with 16 points. Robinson added 11.
Monmouth defeated Niagara, 85-74 Friday night.
"Welcome to the MAAC," Rice commented. "One night you feel like you're on top of the world because you won a game. Your team is getting better. Two days later, you run into a team that's coached by a veteran coach that you know very, very well, and you know they're going to come after you. I take my hat off to Canisius."
The two teams meet again next Sunday at Monmouth.
Monmouth hosts Quinnipiac on Thursday.
With the win, Canisius joins Iona and Manhattan in three-way tie atop the MAAC standings at 5-1.
Canisius travels to New Rochelle to play Iona Friday night. Tip time at Hynes Arena is 9 p.m. The game will be televised on ESPNU.