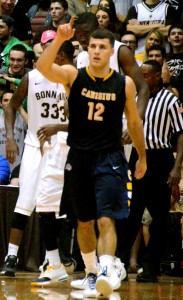 By Paul Gotham
BUFFALO, NY – It was fitting Billy Baron landed on his back after hitting his final shot of the night. The player laying on the floor where he left every ounce of his being.
Mark down the date January 10th, 2014. The day, or night, when the Canisius Golden Griffins used two overtimes to defeat Rider's Broncs, 94-91.
It wasn't Duke-Kentucky or the six overtime thriller when Syracuse beat UConn in the Big East quarter-finals, but this game deserves its rightful place in college basketball lore.
Canisius. Rider.
Whoever penned "just when you thought all was lost" had this game in mind.
Billy Baron notched a career-high 38 points (one of four players to score career highs on the night), but to understand truly what happened consider this – Billy Baron didn't score for the first ten minutes of the game. The senior point guard accounted for just six points in the first half.
Billy Baron endured a Rider Broncs team geared to stop him. He absorbed body blow after body blow before finding the slightest of openings which he turned into a flood.
"We wanted to try and throw a couple different guys at him, try and wear him down as much as possible," said Rider coach Kevin Baggett. "I thought we did a good job in the first half. Second half he just took the initiative to be more aggressive."
The initiative started with ten and change left in regulation. Rider rattled off 11 straight and had their largest lead of the night at 53-44.
Billy Baron took the ball the length of the floor and finished in traffic.
Less than ten minutes of elapsed game time later, and Canisius held a 69-66 edge.
Baron scored or assisted on 23 of 25 Golden Griffin points.
"That's why he's the best player. That's why he's the pre-season player of the year," Baggett continued. "Give him credit because he hit some big shots throughout the game."
It started with a flurry.
Baron sliced the Rider defense with a diagonal pass to freshman Zach Lewis in transition for a catch-and-shoot three. On the next possession, Baron and redshirt freshman Phil Valenti ran a delayed pick and roll for two. One trip later Baron and Lewis, making his first career start, turned in a carbon copy with another transition trey.
Nine-point deficit evaporated to two.
"You wouldn't even think they're freshmen hitting shots like that," Baron said.
Baron used a Jordan Heath ball screen to free himself of Anthony Myles and hit a pull-up jumper for a 69-66 Canisius advantage.
But this one wasn't meant to be decided in 40 minutes.
Zedric Sadler found a seam in the Canisius two-three zone, penetrated, got contact and scored. One free throw later, he knotted the score.
"He just kept hitting big shots," Baron said of Sadler who finished with 16 points. "He had a few and-ones. He just wouldn't go away."
Baron had a chance to end the game in regulation, but Rider's defense delivered one of those body blows.
"I just wanted to get the last shot and not have them with a chance to win it," Baron said of his opportunity at the end of the second half. "I toyed around with my guy too much. I didn't do the right thing."
"They're not all going to be pretty," Baron said. "But when you can gut 'em out like that. We lost a similar game, similar fashion last game of the season to the same team…that's a good team (Rider) right there."
The teams scored seven apiece in the first overtime period.
The pace changed in the second. Baron's buzzer beater ended a five-minute period where Canisius outscored Rider, 18-15.
Myles drilled a three from the left corner with 12 seconds remaining to level the score at 91.
The Broncs appeared to have Baron trapped on the ensuing inbound, but the senior point guard slipped through a pair of defenders and found Josiah Heath open in the front court. Baron followed the lead, and Heath shuttled a pass back to Baron for the game-winner.
"I didn't even see it go in. Josiah was in front of me," Baron stated. "I wasn't just going to stand there. They were trying to tie me up, and they had (the arrow) possession…I hit Josiah because I had two guys on me. He was the only man there. I was saying please don't travel. When he gave it back to me, I just let it go."
"You're just hoping it doesn't go in," Baggett commented. "He makes big shots. Give him credit for that."
After fourteen lead changes and a dozen ties, Baron's second buzzer beater of the season touched off a roar from the 1,226 on hand which sounded more like 12,226 within the tiny Koessler Athletic Center.
"They get their money's worth when they come to see us play," said Canisius coach Jim Baron who took the microphone immediately after the game and personally thanked all those in attendance. "I really appreciated to see them…that's why I showed my gratitude to them."
And the fans saw a complete team effort. What Jim's son, Billy, ended. His team, the Canisius Golden Griffins started. And like their leader, they found a way.
Canisius entered play connecting almost eight times a game from behind the arc. Four different Griffs have found the measure at least 10 times prior to Friday's tilt.
For the first 13 minutes of the game, the Blue and Gold had nothing to show for the efforts from long range. And yet they only trailed by two.
"Just trying to get to the ball," Baggett said of Rider's efforts to defend the arc. "Try and not give them open looks. We knew they were going to set a lot of ball screens, and we were trying to rotate out of the ball screens."
But like their leader, the Griffs found the slightest of openings and made it work.
Jordan Heath recorded a school-record nine blocks to go with 17 points. Valenti had a career-high 12 points and grabbed a game-high nine boards as the Griffs outrebounded the Broncs 31-26. Lewis scored 12 in his first career start. Chris Manhertz played just 16 minutes because of foul trouble, yet the senior forward scored eight and grabbed three boards.
"We just show tremendous resiliency," the elder Baron stated. "We just kept bouncing back. I think they've been doing that for the most part all year."
Canisius hit 54.7 percent (29 of 53) from the field including 10 of 25 behind the arc.
The double overtime game was the first for Canisius since December 16th 2009 at Duquesne.
It was the second extra-time game of the year for the Griffs who lost at Notre Dame, 87-81 on December 29th.
Billy Baron's buzzer beater on November 19th beat Elon, 86-85. He finished with a career-high 38 against Rider on 11 of 19 shooting including 4 of 10 behind the arc and 12 of 13 at the free throw line. Baron dished out a game-high seven assists.
Rider fell to 7-7 and 3-2 in Metro Atlantic Athletic Conference play.
Myles netted a career-high 30 on 7 of 13 shooting. The senior guard hit 3 of 7 from long range and 13 of 15 at the charity stripe.
Sadler added 16.  Jimmie Taylor matched baron with seven dimes.
Kahlil Thomas added 12, and Shawn Valentine chipped in a career-high 11 for the Broncs.
"I don't mind losing this way," Baggett said. "I told our team that because I thought we gave our best effort. They just made one more basket more than we did."
Canisius improved to 10-6 and 4-1 in MAAC play.
The Golden Griffins host the Monmouth Hawks on Sunday. A 2 p.m. tip time is scheduled at the KAC.
Paul Gotham is the founder, owner, editor and lead writer at Pickin' Splinters. Paul is the Communications and Media Director of the New York Collegiate Baseball League.  He is a contributor at USA Today and member of the USBWA. You can follow Paul on Twitter @PickinSplinters.