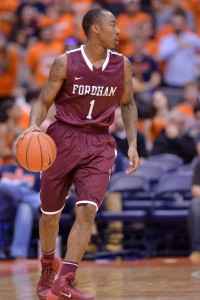 By Paul Gotham
HAMILTON, NY – In a game which they never led by more than four points, Fordham's Rams used a pair of second-half comebacks for a 77-73 road win over the Colgate Raiders in non-conference action at Cotterell Court, Tuesday night.
Branden Frazier and Mandell Thomas combined for 45 points to pace the Rams. The tandem scored 26 after the break as Fordham erased a seven-point halftime deficit.
"Coming off a tough loss last game we just wanted to get back to winning," Frazier said. "This was a big game. Colgate is a very good team that shoots the ball really well. To come into their place and get a win is a big thing for our team."
Down eight with less than 10 minutes to go in the game, Frazier ignited the decisive rally with a drive to the basket in transition. On the next possession, he set up Thomas for three with a dropoff pass on the break. The senior point guard followed with a pair of free throws, and Travion Leonard cut the lead to one at 62-61 when he took a Bryan Smith dish off and finished at the rim.
"They were just punching us and punching us," Frazier said of Colgate's offensive attack. "I felt like I needed to score. You got to be aggressive sometimes."
Frazier used a crossover at the top of the key to get in the lane and score with his left. Then his one-handed runner off the glass gave Fordham a 68-67 edge with 1:38 left on the clock. It was one of seven lead changes in the second stanza.
Colgate quickly responded. Damon Sherman-Newsome connected on his fourth 3-pointer of the evening for a two-point Colgate advantage.
Leonard tied the score at 70 with a tap in.
On the next possession, Thomas stepped into the passing lane for a steal and went the length of the floor before being fouled in the act of shooting. He hit two free throws to give Fordham the lead with 34.3 seconds remaining.
The Rochester, New York native scored seven straight earlier in the half to keep the Rams within striking distance, and he grabbed a pair of long rebounds in the game's last minute to secure the win.
"Tonight I made more of an emphasis on driving the ball and getting into the lane," Thomas commented. "We're on the road. Wins are tough on the road. Rebounds, a few stops, get the victory it's a long bus ride home. It makes us feel better."
Fordham sealed the win converting 5-of-6 free throws in the final 16 seconds. Bryan Smith made both of his opportunities at the charity stripe. Frazier hit of one-of-two, and Thomas ended the game with a pair.
Frazier came into the game averaging 18 a contest. He finished with a game-high 27 on 8-of-16 shooting from the floor and 9-of-10 from the free throw line. He also had three steals.
"We're going to take it," said head coach Tom Pecora. "Winning on the road is magic. You find a way to go into someone else's building and win especially when they take the lead twice on you in the second half like they did here, that's tough. That's a good win."
Colgate came into the game leading the nation hitting a dozen threes per game. After missing their first three attempts from long range, the Raiders found the mark hitting three of their next four and five overall in the first twenty minutes.
Sherman-Newsome hit 3-of-4 behind the arc for 11 points before the break.  He paced the offense to a 10-2 run as the Raiders wasted little time jumping to a double-digit advantage. The junior guard fed Clayton Graham for a bucket. Then the Anchorage, Alaska native drilled his second trey of the night. Austin Tillotson hit a one-handed runner in the lane, and Matt McMullen nailed a 3-pointer from the right corner, Colgate led 26-14.
Fordham switched to man-to-man defense later in half and trimmed the lead to seven.
"We've been playing a lot of zone," Pecora noted. "We came out and said let's see what happens with the zone. We tried to make some adjustments to extend, but they did such a good job of moving multiple guys on the perimeter and getting good looks."
The Raiders also grabbed eight offensive rebounds to score nine second-chance points before halftime.
"That allowed them to kick out and get some great looks," Pecora said of Colgate's work on the offensive boards. "They're playing to their strength. They're really a good shooting team. We went man the last ten minutes of the first half and the entire second half, a little more accountability. We were able to defend the stripe a little more."
Ryan Rhoomes finished back-to-back buckets as Fordham outscored their counterparts 11-4 in the opening 4:13 of the second half. Frazier hit a catch-and-shoot three, and Thomas scored in the lane to tie the score at 45.
But Colgate quickly responded.
Ethan Jacobs took a Matt McMullen feed and flushed a dunk. Tillotson scored on consecutive possessions using high ball screens to get in the lane for layups.
Tillotson led the Raiders with 18 points.
"Tillotson's tough," Pecora said. "You don't want to let him shoot it because he comes in shooting 70 percent from three."
Jacobs scored on a jump hook in the lane, and Murphy Burnatowski found Luke Roh cutting baseline for a layup. Colgate led 60-52 with 9:45 left in the game.
Jacobs scored 14 on 6-of-11 shooting.
Sherman-Newsome finished with 14 and four assists. McMullen added 11.
Clayton dished out four dimes.
Colgate committed 15 turnovers which Fordham converted into 15 points.
"We lost our composure," said Colgate head coach Matt Langel. "They don't typically play a defense which turns over a lot of teams. That's not something that has plagued us this season. We had a couple of critical turnovers. As good as their offense was down at the other end, we couldn't give them free points, and that's what those turnovers did."
The Raiders, who lost a hard-fought battle over the weekend to Georgetown, fell to 5-3. They travel to Albany to take on the Danes this Saturday.
"It's the first game we've been in like this," Langel explained. "At Georgetown we were down, but we were hanging. It never really got to a one possession game. Our other wins were all double figure wins. As close as Syracuse and Wake Forest were, it was a different kind of game. It wasn't a game where you were leading and felt like the game was yours, and they were adjusting to you."
Thomas scored 18 for the Rams. Leonard chipped in 10. Rhoomes corralled a game-high eight rebounds.
Fordham fell to St. John's, 104-58 on Saturday. The Rams improve to 4-3. Fordham hosts Howard for a Saturday matinee.
Paul Gotham is the founder, owner, editor and lead writer at Pickin' Splinters. Paul is the Communications and Media Director of the New York Collegiate Baseball League.  He is a contributor at USA Today and member of the USBWA. You can follow Paul on Twitter @PickinSplinters.