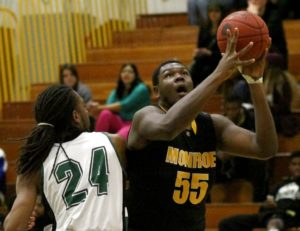 By Paul Gotham
ROCHESTER, N.Y. – They never stopped. On offense they attacked the paint; they attacked from the perimeter. On defense they contested every shot, every dribble, every pass. And they hovered around a 30-point lead through much of the second half.
Isaiah Davis (Elizabeth, N.J.) notched his first career double-double and led eleven teammates in the scoring column as the Monroe Community College Tribunes easily defeated the Cecil College Seahawks,  91-43 in the first annual Murph Shapiro Tournament on George Monagan Court, Sunday.
Davis  and Tashawn Desir (Brooklyn, N.Y.) sparked the Tribune offense to a 19-point lead at the half.
The duo combined  when Davis took a long lead from Desir into the open court for a layup to cap an 11-0 run midway through the first stanza.
Elijah Tillman started the spurt with a pair of buckets around the rim. The 6-8 forward took a pretty dish in the lane from Damon Miraud (Elizabeth, N.J.) for a layup. On the ensuing possession, Tillman nailed a turnaround jumper from just outside the lane.
After not playing in Monroe's opener, the freshman forward has quickly settled into his role in the post.  He tallied seven points in Monroe's win at Herkimer and 14 points in the win over Hagerstown CC.
"I've started to get used to the system," Tillman said. "I'm trying to be more aggressive on the boards and getting used to the post. We had to get the momentum going into next weekend."
Desir took command from there. The 5-10 point guard used a crossover dribble to get in the lane and finish a drive with his left. Anthony Hemingway (Brooklyn, N.Y.) ran down a rebound and led Desir into the open court for an easy deuce.
Desir's two free throws pushed the advantage to 13 at 33-20 with 4:40 remaining in the half.
The Tribs continued the pressure to close the half.
Desir nailed a pullup jumper in transition. Davis ran down his own rebound and finished at the rim. Andre McFarlane (Queens, N.Y.) took a feed from Desir and scored. Miraud closed the stanza with a layup at the buzzer and a 43-24 MCC lead.
Monroe never looked back and scored the first seven of the second half. Davis followed Desir's miss on the break for a 50-24 MCC advantage.
"There was a true emphasis on the defensive end," noted Tribune head coach Jerry Burns. "That started on Wednesday night in Herkimer, and I think it's carried over. We got a little lackadaisical yesterday, but sometimes it's when you get a lead as a young team. Instead of killing them you kind of let them back in. Today, that was not the case at all. We locked down and just gave them absolutely nothing."
Artice Jackson (Owings Mills, MD) made it a 30-point game at 62-32 when he took a Dykweil Bryan (Brooklyn, N.Y.) feed and nailed a catch-and-shoot trey.
"I was really happy and I told our guys this," Burns added. "You can talk about Xs and Os all you want. It wasn't that today. It was the same thing that happened up at Herkimer. It was more about I'm not going to let my guy score. I am not going to back down. I'm going to fight through the screen. I'm going to show poise. It had absolutely nothing to do with Xs and Os. I told the guys at halftime we can diagram and run any play you want, but it all comes down to all those intangibles that makes a good team or a team that is getting better. Those intangibles are starting to happen."
Defensively, Monroe focused on Cecil's Arnold Richmond (Washington, D.C.) and Donte Adams (Bronx, N.Y.). The tandem combined for 51 points in the Seahawks' loss to Sullivan County CC on Saturday.  Desir watched that game intently and prepared. Against the Tribunes, Adams and Richmond managed just 17 points on a combined 7-of-19 shooting.
"We made it our business to clamp down on them," Desir stated. "We realized their weaknesses. One of them couldn't go right. One of them couldn't go left. We played smart and stayed help side. They made their team. Once you shut them out of the game, you cut the head off the snake, and you're pretty much good after that."
"We locked those two down and forced others to do things they're not used to doing," Burns said. "We threw off their rhythm."
As a result Monroe created 28 turnovers while limiting Cecil to just 13 field goals and four assists.
"There was a lot of pressure, but we didn't actually press a lot," Burns noted. "People always assume pressure comes from our full court press or we're trapping or we're doubling the ball. Today, our pressure came from a lot of areas. We put a new offense in. We look and see where the mismatch is and go four out and one in. But on that we got a lot of back cuts. We also got some really nice dribble drive and kick for open threes."
The win was the third straight for Monroe who opened the season with a disappointing loss to Finger Lakes CC.
"That game with Finger Lakes was a chin check," Desir said. "We knew we had to get it right, now or not get it at all. We know we have a couple of big games coming up. We lived and learned. It was a tough lesson."
MCC dished out 17 assists on 34 field goals.
Davis registered game highs with 24 points and 12 rebounds. The freshman went nine-of-15 from the floor including three-of-six behind the arc.
Desir added 17 points and game-high four assists.
Hemingway chipped in five points and paced all with four steals.
Artice Jackson, Miraud and Marcus Gooding (Brooklyn, N.Y.) scored eight points apiece.
Adams finished with 11 for Cecil. Mike Vigilance (Brooklyn, N.Y.) collected with 11 rebounds.
Monroe converted 15 of 21 free throws while Cecil struggled at the line going 17-of-35.
The Tribunes travel to New Rochelle, N.Y. for the Monroe College Winter Tip-Off. MCC will take on Community College of Rhode Island, Saturday afternoon. A p.m. tip is scheduled.
Paul Gotham is the Communications and Media Director of the New York Collegiate Baseball League. Paul is the founder, owner, editor and lead writer at Pickin' Splinters. His work has been featured on Seamheads.com, BruceSpringsteen.net and in the 2013 USA Today College Basketball Preview. His book, Everybody On, Nobody Out, chronicles the hope and possibility of the NYCBL.  You can follow Paul on Twitter @PickinSplinters.