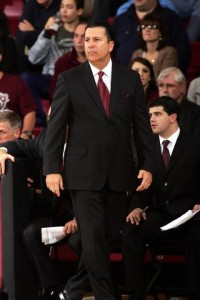 Counting down to tipoff and previewing the Atlantic 10's incoming freshmen with a look at the first year players of Fordham University.
Fordham finished 7-24 (three A-10 victories) in 2012-13. Tom Pecora welcomes four freshmen to campus: Antwoine Anderson, Jake Fay, Jon Severe and Manny Suarez. 
Antwoine Anderson G 6-1, 170 Rochester, NY/Bishop Kearney
A graduate of Bishop Kearney High School in Rochester, N.Y., where he played basketball for Jon Boon… Enjoyed a successful senior season, earning Second Team Class AA All-State and Democrat and Chronicle All-Greater Rochester Player of the Year honors… Averaged 16 points, four assists and four rebounds per game and led the Kings to the New York State Public High School Athletic Association title… Bishop Kearney also advanced to the semifinals of the Federation Tournament of Champions where the Kings fell to a Christ the King squad led by Fordham teammate Jon Severe… Scored a team-high 32 points in the Federation semifinals… Also helped Bishop Kearney win the Section V Class AA1 title, where he was named the tournament's Most Valuable Player, netting a game-high 20 points in a 58-55 win over Webster Schroeder in the championship game… Played in the Ronald McDonald House High School All-Star Game in Rochester a day after the Federation Tournament loss, recording a game-high 28 points, including the game-winning basket with 28 seconds left, leading the Red team to a 123-121 win and took home MVP honors… Served as a team captain as a junior and senior.
What they're saying about Antwoine Anderson – Matt Spadoni/ Webster Schroeder: "He is very explosive from the point guard position. He can jump. He 's quick. He can stop on a dime. He is the rare kid high school who actually has the ability to stop, be under control and shoot a jump shot. He was always smiling. Just a kid who loves playing basketball. He's got a smile on his face from the moment he steps on the court to the moment he steps off. Therefore, he is relaxed. He is very under control. He seems like a great teammate. He was the toughest kid we had to guard all year. He has a great handle and being a left-hander doesn't hurt."
Jake Fay G 6-5, 175 Lynn, Mass./ Brimmer and May
A graduate of Brimmer and May School in Chestnut Hill, Massachusetts, where he played for head coach Tom Nelson… A 2012-13 team captain… Earned All-League honors… Got senior year off to a hot start, netting 18 points in a loss to nationally-ranked Lee Academy in the second game of the year… Averaged 12.0 ppg and 6.0 rpg as a junior in 2011-12… Was active with his AAU team and at home in the summer of 2012, netting 20 points in the finals to lead his Thunder team to the Lynn All-City League championship… Joins brother, Jared, a redshirt sophomore, at Fordham… Also reunited with former Brimmer and May teammate, Ryan Canty, a junior at Rose Hill this year.
Jon Severe G 6-3, 180  Brooklyn, N.Y./Christ the King
A graduate of Christ the King in Queens, N.Y., where he played basketball for head coach Joe Arbitello… A 2013 Parade All-American (only Atlantic 10 freshman to be named to the 2013 team)… Named 2013 New York State Mr. Basketball, New York State's highest honor… Also named Player of the Year by the New York Daily News and the New York Post… Led the Royals to the CHSAA Brooklyn/Queens regular season and postseason titles, the CHSAA Class AA intersectional championship and New York State Federation Class AA championship as a senior… Named All-State and the 2012-2013 MSG Varsity All-Metro Boys Basketball Player of the Year… Set a Class AA state Federation two-game scoring mark with 68 points in a pair of wins at the Federation championship series in Albany, including 40 points in a 68-55 victory over Bishop Kearney in the semifinals, to earn MVP honors of the tournament… Appeared in the Jordan Brand Classic at Barclays Center on April 18, netting 16 points and dishing out five assists to lead the White Team, made up of New York City stars, to a comeback win over their Black Team… Scored over 1,100 points in his Christ the King career, averaging 21.6 ppg as a senior, shooting 40 percent from three-point range.
What they're saying about Jon Severe – Jon Boon/ Bishop Kearney: "He scored 21 in the first quarter on us. Very explosive. He can do it all. He's tough. He can shoot it. He can go to the basket. He's athletic. He can handle it. There is a reason why he's the New York State Player of the Year. He's very, very talented."
Steve Keller/ National Recruiting Report: "He's a real scorer. If he stays at Fordham for four years, he could have a lot of points, 1,200 or more. He's probably the best kid coming into the league."
Allen Rubin/ Hoop Scoop: "He is a very good scoring guard, had a really good year. He's a real good get for Fordham. He's a good outside shooter who can get to the rim and gets to the foul line. He's a good defender."
Jamie Shaw/Phenom Hoop Report:  "Severe is a well-built scorer. He comes to Fordham with a sense of New York Swag and toughness. He is explosive to the rim and tight with his handle, when going to the rim. He is able to finish through contact because of his build and quickness. Severe is working on his shot selection, some may overlook him because of his size, don't be that guy."
Manny Suarez F 6-10, 225 Cliffside Park, N.J./ Marist
A graduate of Marist High School in Bayonne, N.J., where he played for head coach Tony Romano… Averaged 18.4 ppg, 13.2 rpg and 6.0 blocks/game as a senior in 2012-13… Averaged 16 points, 13 rebounds and 5 blocks as a junior in 2011-12 in 14 games, after transferring to Marist from Cliffside Park High School… Also averaged 4.2 blocks per game, leading the Royal Knights[apos] defensive efforts… Named First Team All-HCIAL for his exploits last winter… Played AAU basketball for the Albany City Rocks.
What they're saying about Manny Suarez – Jay Gomes/ NJHoops.com: "A skilled big man with a nice touch from beyond the arc.  Long arms and timing make him an effective shotblocker.  Needs to get stronger.  Will need to make adjustment to college level since played fairly weak schedule in high school.  Doesn't look to score or need the ball to make an impact.  Ranked among NJ Hoops top 15 seniors."
Steve Keller/ National Recruiting Report: "He really started to come on in his senior year. He was a bit of an unknown before that or not to be considered anywhere near an Atlantic 10 player. But now he is pretty good and should give them some depth early on in the post and eventually be their center."
Allen Rubin/ Hoop Scoop: "He is a good shot blocker and rebounder. He scores in close. He's long, and he runs the court well."