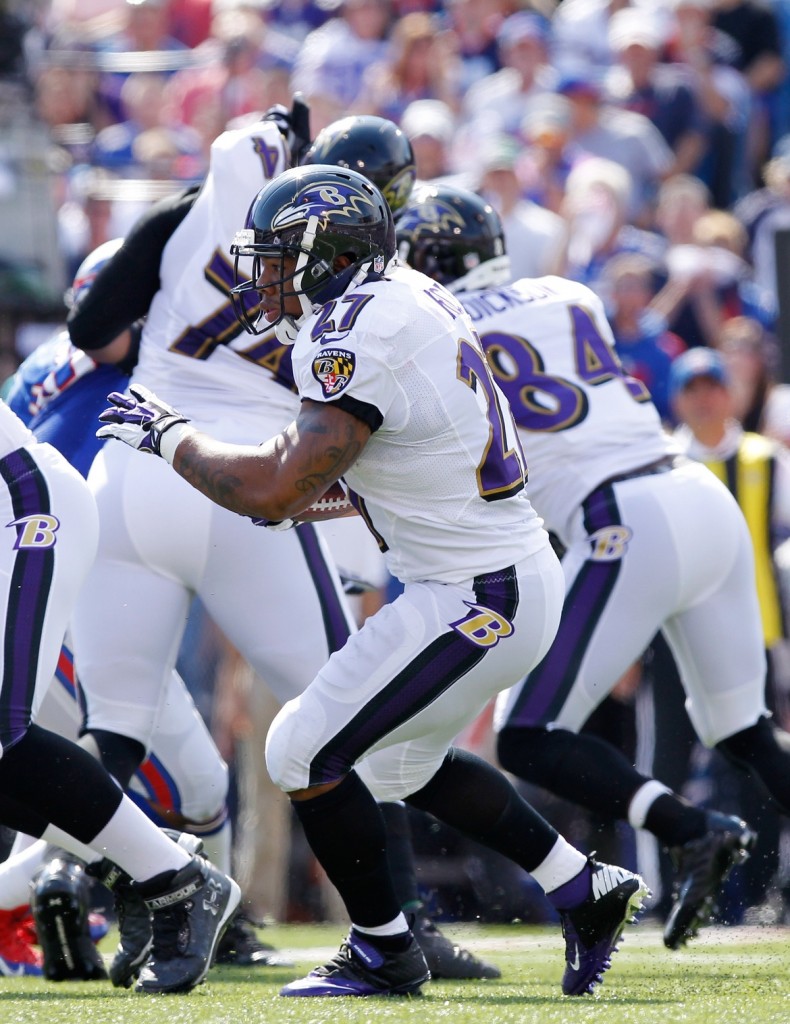 Apologies for the lack of posts last week.
Week 5 NFL Power Rankings:
| | |
| --- | --- |
| 32. Jacksonville (0-4) | 16. Atlanta (1-3) |
| 31. NY Giants (0-4) | 15. Dallas (2-2) |
| 30. Tampa Bay (0-4) | 14. Baltimore (2-2) |
| 29. St. Louis (1-3) | 13. Houston (2-2) |
| 28. Buffalo (2-3) | 12. San Francisco  (2-2) |
| 27. Pittsburgh (0-4) | 11. Green Bay (1-3) |
| 26. Cleveland (3-2) | 10. Miami (3-1) |
| 25. Arizona (2-2) | 9. Chicago (3-1) |
| 24. Oakland (1-2): | 8. Cincinnati (2-2) |
| 23. Minnesota (1-3) | 7. Indianapolis (3-1) |
| 22. Carolina (1-3) | 6. Detroit (3-1) |
| 21. Philadelphia (1-3) | 5. Kansas City (4-0) |
| 20. Washington (1-3) | 4. New England (4-0) |
| 19. NY Jets (1-3) | 3. New Orleans (4-0) |
| 18. San Diego (2-2) | 2. Seattle (4-0) |
| 17. Tennessee (3-1) | 1. Denver (4-0) |
Controversy may arise with the placement of some of the teams towards the bottom of the rankings this week, most notably the AFC North-leading Browns, and the 2-3 Bills. To put it simply; good luck. Good luck with the washed up second year pro, who may have never been dirty enough to be washed up in the first place, and the QB with the last name pronounced "TOOL." Yes good luck with that.
Sorry if I'm coming across as combative; I'm probably projecting my team's 0-4 frustrations on two of the most abused fan bases in all of sports and for that I do apologize.
I do not apologize for the placement of my beloved Steelers:
If you take issue with a team being placed 27th instead of 28th, I apologize yet again for the disservice your owner has done to you.
Believe it or not, the Steelers actually showed some signs of life offensively in what was for the most part a horrifying loss to one of the league's worst teams.
Are some teams ranked too high? Tennessee's 3-1 record certainly looks good on paper, but keep in mind who'll be doing the quarterbacking for the Titans for the next couple of weeks (sorry Bills fans, I wouldn't bring up those memories if they weren't relevant).
Fitzpatrick, Tuel, and Weeden. As long as we're on the topic of apologies, I think the NFL might have to own up and give us all Sunday Ticket for subjecting us to such QB play.
Why are teams like Atlanta and Green Bay up? Because teams like Houston and Baltimore are down.
Matt Schaub seems to be regressing quickly and Arian Foster might want to add more spinach to his veagan diet.
For Baltimore fans, I'd imagine watching the Ravens offense is something like eating Brussels sprouts as a kid. It's ok, I cried too.
I do think the addition of Eugene Monroe was a significant upgrade.
On that subject:
 

Steelers acquiring Levi Brown

(Photo via https://www.achristmasstoryhouse.com)

 Baltimore trading for Eugene Monroe

(Photo via https://www.achristmasstoryhouse.com)
Put it this way: from a Steelers fan's perspective this is the equivalent of Scut Farkus flaunting a Red Rider BB Gun in Ralphie's face or the Bumphis hounds making off with the Christmas turkey, but not before destroying the "Italian" lamp.
Essentially both division rivals needed a left tackle in the worst way and Monroe provides much more upside than the mediocre and oft-injured Brown.
Denver jumps Seattle for the top spot because Peyton Manning may be an Avenger.
Enough rationale. On to this week's slate of games:
NO @ CHI

-Brees cuts (up) Chicago Defense

-Saints D overwhelms a young Bears line and covers for a pair of Brees turnovers

Saints 31 Bears 20

Reading Between the Lines: As long as Jay Cutler is frowning…

NE @ CIN

-Pats young receivers struggle

-Andy Dalton does not

-Bengals pass rush proves to be too much

Bengals 28 Patriots 24

RBTWL: Reverse Psychology

DET @ GB

-Shoot out for the ages

-Rodgers on A-game

-Stafford coughs up the ball too much

Packers 38 Lions 35

RBTWL: Let's get Jordy Nelson some fantasy points.

KC @  TEN

-Battle of two quality defenses

-Smith turnovers: 0

– Fitzpatrick turnovers: 2

-In a dual of speed-backs, Charles outgains CJ?K

Chiefs 20 Titans 12

RBTWL: I miss smashmouth football.

SEA  @ IND

-Seattle defense hands Luck his worst game as a pro

-Colts ground game keeps it close

-Russell Wilson leads a game winning drive late in the fourth quarter

Seahawks 24 Colts 18

RBTWL: See Bengals Patriots

JAX @ STL

-Snoozer game of the week

-Blackmon's return negated by horrendous QB play

-Bradford realizes he beat better teams in college, has career day

Rams 34 Jaguars 14

RBTWL: ZZZZZ

BAL @ MIA

-Baltimore defense controls matchup

-Ravens offense keeps Miami in the game

-MIA O-Line fails Tannehill on last drive

Ravens 17 Dolphins 13

RBTWL: Please let there be a Mike Wallace meltdown

PHI @ NYG

-No sign of improvement for Big Blue as Eli and Cruz continue to be the only producers on offense

-DeSean Jackson gives NY headaches as per standard

Eagles 27 Giants 20

RBTWL: The Giants make me feel good about the Steelers

DEN @ DAL

-After appearing mortal early, Peyton eviscerates sorry Dalas secondary

-Romo tosses away any chance of staying in the game early in the second half

Denver 38 Dallas 24

RBTWL: Nothing is funnier than a Tony Romo meltdown

HOU @ SF

-Two teams in a state of "what's going on?" wear each other out physically

-Schaub redeems himself against a understaffed and overrated Niners defense

Texans 27 49ers 23

RBTWL: A scornful fan that enjoys seeing "good" teams struggle

SD @ OAK

-Phil Rivers puts on a clinic against hapless Oakland

-Terrell Pryor makes it interesting, but lack of surrounding talent keeps it from being a thriller

Chargers 30 Raiders 20

RBTWL: The Black Hole deserves a big time QB in Teddy Bridgewater.

NYJ @ ATL

-Better game than it looks on paper; Jets defense gives M. Ryan fits.

-Jets offense gives R. Ryan fits.

-Geno crumbles under the crowd noise at the Georgia Dome.

Falcons 20 Jets 16

RBTWL: Rex's fits are the best!
Tim's Pick Record Through 4 weeks: 38-26 (.594%)