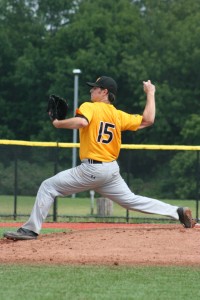 By Paul Gotham
BATAVIA, NY – The Erie Community College Kats came from behind to defeat the Monroe Community College Tribunes, 3-1 in the semi-finals of the Western New York Athletic Conference fall tournament at Dwyer Stadium, Saturday afternoon.
Erie tallied three runs on three hits and two walks in the eighth inning to advance to Saturday's finals.
Alexio Medina (Elma, NY/ Iroquois) led the stanza with a double inside the third-base bag. Marc DiLeo (Williamsville, NY/ Canisius) put runners on the corners with a bunt single to the third base side of the pitcher's mound. A ground ball to the right side of the infield put Erie on the scoreboard before Brett Bauth (Lancaster, NY/ St. Mary's) continued the rally with an opposite field bloop single down the right field line.
Erie capped the inning with a pair of walks and an RBI ground out.
Monroe starter, Dylan Sheffer, (Penfield, NY/ Penfield) hurled six and two-thirds of no hit ball before giving way to the bullpen with one on in the seventh. The right-hander struck out two and retired 13 straight between the third and seventh innings.
"That's what I expected from Sheff," said Monroe head coach Dave Brust. "You can ask him to do any more than he did today."
Sheffer allowed one run on five hits over four innings when Monroe downed Erie, 9-4 earlier in the month. The sophomore followed that performance with five shutout frames in a 2-0 triumph over Niagara County Community College.
Saturday, Sheffer worked himself out of a self-inflicted jam in the second. Two walks, a balk and a wild pitch gave the Kats runners on first and third before Sheffer ended the threat with a weak fly ball to right.
He threw 97 pitches, 55 for strikes.
"He's a grinder," Brust added. "He battles. He's a competitor."
The loss ends a fall season in which the Tribunes earned the tournament's top seed with a 7-2 record.
"It's a great opportunity to learn," Brust said of the loss. "The guys have to understand that losing is inevitable, but they have to learn to not get comfortable with that. We have a lot of guys who come from winning programs. We got to make sure this loss hurts. You can't accept it."
Monroe jumped on Erie starter, Austin Spindler, (West Seneca, NY/ West Seneca) for a run in the first.
Ellington Hopkins (Ithaca, NY/ Lansing) slashed a one-out single in the home half of the first. Angel Rosario (Bridgeport, CT/ Bullard Havens) worked a full-count base on balls. After a double steal, Jimmy Latona (Churchville, NY/ Churchville) delivered with a single up the middle.
But the Tribs failed to push across another run.
Spindler earned the win setting down 14 in a row before allowing a two-out triple to Rayshelon Carolina (Willemstad, Curacao/ St. Jozef Secondary) in the sixth. The freshman right-hander fanned the last three batters he faced.
"He gave us a chance to do what we did in the eighth," said Erie head coach Joe Bauth. "He's been real good for us all fall. We've come to expect that, and he did a great job."
Erie moves on to play the winner of the other semi-final between Mercyhurst – Niagara County Community College.
Monroe managed just three hits.
Tribunes hurlers walked six and hit four batters.