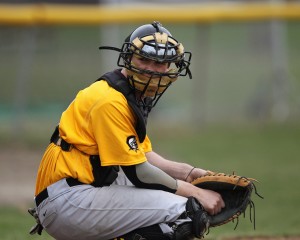 By Paul Gotham
ROCHESTER, NY – Webster's Dictionary defines pressure as – a compelling influence; a constraining force. A sense impression caused by or as by compression.
Pressure is needed to bond or mold objects. It can provide therapy as in the step used to heal a wound. At the same time, pressure has a dual nature. Too much of it can cause a fracture or crack.
Prior to this junior college baseball season, the latter absorbed the thoughts of Monroe Community College's AJ Kehlenbeck (Oakfield, NY/ Oakfield-Alabama).
More than a year removed from claiming the National Gold Glove award, the MCC catcher wondered if he still had it. Would he still be able to back stop a successful team?
Judging by last weekend's Region III Division II championship and subsequent Most Valuable Position Player award, Kehlenbeck worries were for not.
The sophomore catcher knocked seven hits in 13 at bats and scored four runs as the Tribunes took their 23rd regional title. More importantly, as he did all year, Kehlenbeck held runners in check. Only one runner tried to take a base. He promptly went to the dugout and retrieved his glove after making the third out of the inning.
Kehlenbeck has earned a reputation for throwing out runners from behind the plate, but fully understanding his influence has as much to do with what occurs as to what does not occur.
Monroe has swiped 68 bases as a team this year. Opposing teams have taken 37 bags. Yes, a +31 in that department for the Tribunes. Take it a step further. MCC runners have been thrown out on 16 occasions. Opponents? They've been hosed 19 times. Here is the Kehlenbeck effect. The 6-1, 205 pound back stop has thrown out 17 of those runners while allowing 14 to advance 90 feet.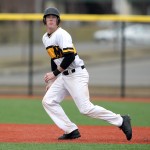 Not only has Kehlenbeck thrown out more runners than all opponents combined, but he makes runners think twice about even trying move.
"It amazes me that nobody goes," Kehlenbeck said after Sunday's victory over Mercyhurst to clinch the regional crown. "They don't even try."
"I can't say enough about his efforts and what he has done all year," commented Monroe six-year head coach, Mike Kelly. "He's a team leader. The most important position on the field is the guy behind the plate."
But it is easy to overlook Kehlenbeck's influence. With his sure hands and a POP time between 1.85-1.95, battery mates have the confidence to throw any pitch in any count. With a runner on base, pitchers don't have to use a slide step to the plate. Infielders can place more of their focus on the batter.
"He solidifies our defense," Kelly continued. "He's the real deal."
At the same time, Kehlenbeck contributes offensively out of the seven-hole hitting .387 with eight extra-base hits, 16 RBI and 37 runs scored.
"He'd hit in the middle of the order in a lot of lineups," Kelly added.
Still, it is Kehlenbeck's work with pitchers which matters most.
"I'm not worried about anyone ever stealing a base on AJ," said MCC pitcher Cass Roberts (Canadaigua, NY/ Canadaigua). "That is awesome. He is so wide which makes a great target. I'm happy he's on our side."
Monroe opens the East District Tournament Saturday against Rockland Community College. The last time the Tribs advanced to the districts was 2011 with Kehlenbeck behind the plate.  The catcher spent 2012 getting his academics in order.
"We got the team to do it," Kehlenbeck said. "Freshman year we made it to the districts, but we have a team this year that is more together. We play better together."
The Tribs seek to make their third trip to the NJCAA World Series in Kelly's tenure and eighth in school history. Kelly's 2008 club finished third in the nation.
First pitch Saturday is slated for 10 a.m. at Tribunes Field. Rockland CC has stolen 53 bases this year. Monroe will play UConn-Avery Point at 4 p.m. on Saturday. The third-ranked team in the nation has 66 thefts.