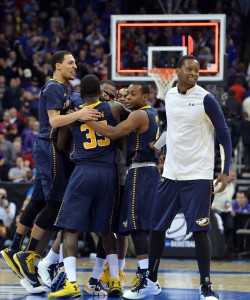 By Ryan Lazo
Maybe it should have been the Atlantic 10 Conference raiding the Big East and not the other way around. After two rounds of the NCAA Tournament, the A-10 is a perfect 6-0 and no team has been more integral to the glistening mark than La Salle.
The Explorers won their play-in game as one of the last four teams to be selected on Selection Sunday and immediately proved their worth to a nation watching intently. The Explorers jumped on Kansas State, the No. 4 seed, from the opening tip and held a 28-11 lead in the first half of play.
While the Wildcats would pull it close, La Salle was just too much for Kansas State to deal with as the Explorers held on for a 63-61 victory and advanced to the Round of 32.
"Sometimes our quickness takes people a little bit by surprise in the first half because we're quick," La Salle coach John Giannini said. "It was certainly a game of two halves. We had Jerrell step it up and Sam get a big stop to win the game."
And he's right.
After playing as well as a team could play in the first half — the Explorers shot a blistering 58 percent from the field, including 6-of-11 from 3-point range — they played equally as bad in the second, begging Kansas State to take the game.
But even after making just 3-of-18 shots in the second half, La Salle found a way, something they have been doing all season long but now on the biggest stage of them all.
"We just kept telling them, 'We'll be all right. If we get some stops, we'll be all right.' That was the message," Giannini said. " We challenged our guys pretty firmly. I told them they were not defending. We would single out plays we didn't like. But we focused positively. If we could just get our defense back, we'll win this game."
And La Salle found their defense at the most critical of times.
The Explorers trailed the Wildcats by two, 60-58, but tightened up defensively and held Kansas State without a field goal in the final 4:54 of regulation, sealing a second NCAA Tournament win for the first time since 1955.
But what more about these Explorers?
The entire West Region is there for the taking after a stunning upset of No. 5 seed Wisconsin by Ole Miss. And these Explorers have the right mindset to be the Cinderella's of this year's NCAA Tournament.
"No, we're not playing with house money," Giannini said after his No. 13 seeded Explorers scored an upset of their own. "That's not at all the way we would ever think. No, we want to win every game we play."
But can La Salle continue to win?
With a unique style of play that forces opponents to tire down the stretch and a lineup that forces teams to match-up to the four guards on the court at once, they can make a strong argument that it's possible.
Why?
Because La Salle's top four guards shot a combined 12-of-31 from the field for 35 points against the Wildcats and the Explorers still came out victorious. While Ramon Galloway scored 15 Explorer's points in the first half, he scored just four in the second after the Wildcats keyed on him, making La Salle search for someone to step up.
And that person was Jerrell Wright who picked up the slack on the off-shooting night of his guards and the loss of Steve Zack, a 22-minute a game starter.
"I can't explain how much of a hand he had in this game," Galloway said of his big man. "Knowing we have Zack out, he really stepped up.  We always have confidence in Jerrell, we always know he can play this way. It's not really a shocker, but we're just glad that he really stepped up big-time for us."
In fact, over the last 30 seconds of regulation, it was Wright who hit three clutch free throws to help La Salle take a lead they would not relinquish. But for them to advance, their guards have to play better against Ole Miss.
Tyreek Duren is normally overshadowed by the play of Galloway, but Duran's 14.5 points per game and his ability to create and find his teammates for open shots to a tune of 3.3 assists per game is critical.
And Sam Mills' 38 percent shooting from beyond the arc helps open up the paint for Duren, Galloway and Wright to have a field day with their opponents.
It's the unselfishness the group has which contributed to La Salle taking a commanding 18-point lead over Kansas State and likely help against Ole Miss on Sunday.
"We did a great job of sharing the ball. Our guards were making good plays," Rohan Brown said. "We know not one individual guard can win the game by himself. We have to play as a group. As a group, I think we are the best guards in the whole country."
And by not relying on one individual, but a team-wide effort, the Explorer's are making noise in their first NCAA Tournament since 1992, but how much noise they can continue making depends on their commitment to defense.
Ryan Lazo can be reached on Twitter @RMLazo13