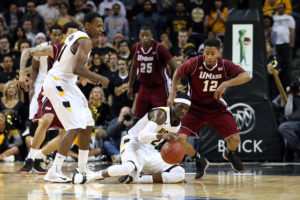 By Ryan Lazo
BROOKLYN, N.Y. — Virginia Commonwealth University honed their defensive style in relative obscurity as they resided in the Colonial Athletic Association, but in their first season as a member of the Atlantic 10 Conference, the Rams have taken Brooklyn by storm.
In their 11th conference semifinal tournament game over the past 12 years, VCU never once panicked even when the shots were not falling. When it seemed that University of Massachusetts-Amherst was the team with more energy, mind-numbing since the Rams have made a living with feistiness, they remained calm and collected even after falling behind 20-11.
But then havoc made its return, the shots that clanked off iron now found nylon, and the Rams forced UMass to the point of mental exhaustion in a stirring 71-62 victory at the Barclays Center, setting up a date with Saint Louis for the A-10 Championship.
"It was a hard-fought game and I'm proud of my guys that we can come out on top, especially on a day that we did not shoot the ball well," VCU coach Shaka Smart said. "We found a way to get it done. I'm proud of them, but we're not satisfied. We got another game tomorrow."
Yes, after shooting just 35 percent from the field for the game and being out-rebounded by a 50 to 36 margin, the Rams still found a way to win. And it all starts with their incredible defensive effort.
There is a reason why they call VCU's full-court pressure defense havoc. There's a reason why they use a term that by definition means widespread destruction. That's what VCU causes on the basketball court — destruction and confusion.
Against a team that makes even an inbounds play a matter of life or death, crossing half court and running a set play can also be as treacherous as walking on a tightrope over Niagara Falls. And one of the main reasons for the perils of having to run an offense against VCU's defense?
The sophomore guard epitomizes what havoc is. Weber never relaxes, on defense nor offense, and continually finds himself at the right place at he right time. During a key 11-0 run in the first half that helped VCU erase a nine-point deficit, it was Weber who picked up a key steal and then found Troy Daniels for a transition 3-pointer, where he was 6-of-9 on the night for a team-high 20 points.
Then, it was Weber capping the run off with a steal at half court after trapping Minuteman guard Chaz Williams toeing the line and took off for an emphatic jam.
"This guy with the head band on is Mr. Havoc.  He speeds a lot of guys up," Daniels said of Weber.  "That's our motto going into the game, our mindset going into the game, and I felt like we did that towards the second half.  We did that a little bit in the first half, but really did it in the second half."
But while it may be the Rams motto to attack opponents and smother them at every chance, it is Weber's entire mentality. The 6-foot-2 guard only picked up two steals on the game, but his constant pressure helped force UMass into 24 turnovers, 15 of those in the decisive second half.
"Energy.  He's the most energetic person I've ever been around in my life, basketball or otherwise, and that's his gift," Smart said of Weber. "If a player is able to receive a scholarship at this level, then there's obviously something that they do well, and for Bri, he's energy, enthusiasm, anticipation, and that's why he's one of the best steal guys and one of the best deflection guys that I've ever seen."
And it's his energy that helps build up the confidence of his teammates. Once Weber picks a pocket of an opponent, faster than a magician, the VCU bench comes alive with passion. It's helped turn the Rams into one of the most feared teams in the country.
Entering the game, VCU had claimed the top spot in the country with 382 total steals, averaging 11.9 steals per game and forcing 19.8 turnovers a game. Even more mind-blowing — VCU forced a turnover on 28.5 percent of their defensive possessions.
" It's a mindset, and it's just that coaching staff is telling us that we're always going to be smaller," Weber said of how VCU plays. We've just got to tough it out and be more scrappy than the other team.  That's what we go into with our mindset, we've got to be a scrappier team.  We've got to scrap out everything.  Every loose ball, every rebound, everything. Got to get to the 50‑50s, and everything else will fall."
But to call VCU a scrappy team would be to denounce them as not a very good team of which they are. Since 2009, only six programs have won 110 games or more. A list that includes the likes of Kentucky and Duke also includes the Rams of VCU.
It's what makes the Rams' war song, chanted extremely loud throughout the Barclays Center during their game, almost poetic.
"You don't want to go to war…with the Rams," the VCU fans say in unison. "Don't start no stuff won't be no stuff."
No team wants to go to war with the Rams. With a defense that forces a turnover on over a quarter of defensive possessions, has deadly 3-point shooters and a team that won't relent, VCU causes havoc everywhere they go.
Ryan Lazo can be reached on Twitter @RMLazo13