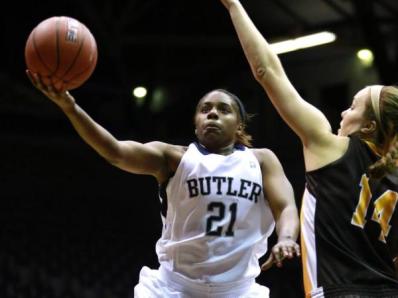 By Aaron M Smith
For any team, ending the non-conference portion of their schedule on a winning note is important in any season. Ending the non-conference portion of your schedule with a victory in your first year of  a new conference is huge. Looking for their sixth win in their last seven games, the Butler women's basketball team entered their Saturday match up against the University of Illinois at Chicago looking to cap the non-conference portion of their schedule with a victory. This is the Bulldogs first year in the Atlantic 10 conference and junior Daress McClung  provided a  performance that made sure Butler entered conference play on the right note.
The junior scored a career high 31 points and pulled in 12 rebounds in leading the Bulldogs to a 84-61 victory over the Flames. McClung shot 9 for 11 in the first half and matched her career high of 22 points by the halftime intermission. The Indianapolis, Indiana native scored 14 of Butler's first 18 points in the game. Daress also added 4 blocks, 3 steals and 2 assists to go along her career high in points.
Earlier in the week McClung scored 22 points and hauled in 18 rebounds as Butler held on to defeat Cleveland State 56-54 in a match up against an old Horizon League foe.
Butler enters Atlantic 10 conference play on January 12 when they welcome the nationally ranked Dayton Flyers to the Hinkle Fieldhouse.
Daress McClung is Pickin Splinters' choice for Performance of the Week.
Who is your Performance of the Week?