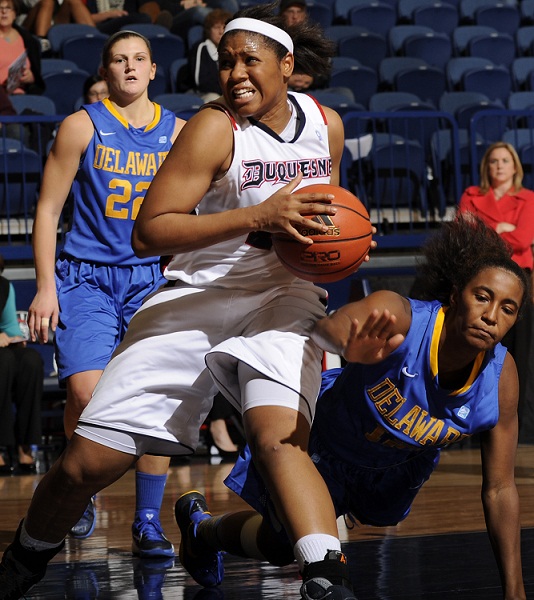 By Aaron M Smith
Big time players rise to the occasion.  Whether it is a last minute shot needed for a victory or a great performance on the road, big time players find a way to rise to the occasion and deliver a performance that leaves people talking for hours, days and even months.
On Thursday night, the Duquesne Dukes were on the road facing #24 West Virginia hoping to extend their current winning streak to a program best 9 games.  The Mountaineers were also the second ranked team that the Dukes have faced in the early half of the 2012-13 season.  Since  2007, the women's basketball team has beaten three ranked teams after only beating one prior to Coach Suzie McConnell-Serio taking over the program. Make that four.
Lead by Wumi Agunbiade, the Dukes secured their second victory over a ranked team this season, beating West Virginia 62-54. The 6'2″  forward lead all scorers, tallying 15 points and pulling in 3 rebounds during the hard fought game. The performance brought the junior to 994 points in her college career and will certainly pass the 1,000 point milestone in the Dukes' next game.
Earlier in the week,  the Pickering, Ontario native notched her fifth double-double of the season against James Madison,  scoring 18 points and hauling in a season high 15 rebounds in the 62-58 win.
Duquesne  is now 11-1 to start the season.  With victories over both West Virginia and Delaware, the Dukes look primed to join Dayton as the Atlantic 10's second team to crack the Top 25.
Wumi Agunbiade is Pickin' Splinters' choice for Performance of the Week.
Who is your Performance of the Week?