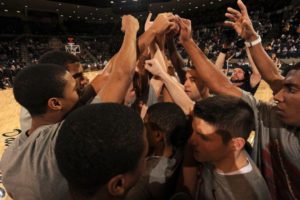 SOUTH PADRE ISLAND, Texas — Brandon Venturini hit three straight three-pointers right after halftime and Navy held off a late Delaware State surge to top the Hornets, 63-53, in the final game of the South Padre Island Invitational on Saturday morning.
The win improved Navy's record to 3-4 overall, matching last season's win total. The Mids finished the tournament with a 1-3 record with two of the three losses coming by two points each (TCU, Prairie View A&M).
Delaware State falls to 3-4 overall. Despite being just 64 miles away, the two teams met for the first time in series history in a venue over 1,800 miles from Annapolis.
"I thought it was a good effort for us. We really challenged the guys last night to bounce back. This one was about effort and toughness and whoever wanted it more was going to win the game," said Navy head coach Ed DeChellis, who won his 225th career game with the victory. "Our guys wanted to win the game. We came into the game and really battled and fought hard and shot the ball well, too. It was a good way to come back after a tough loss."
Navy led the game 35-20 at halftime and pushed the lead to 44-20 on a trio of Venturini three-pointers. Venturini would finish the game with 14 points on 4-of-6 three-point tries and 5-of-8 field goal attempts.
"Those first couple of minutes out of the locker room are really important. It gives you a lot of confidence when you come out like that and give the team a lift," said Venturini. "My teammates found me when I was open and I was able to knock them down. I just wanted to give the team a lift there."
The two teams were tied at 6-6 just six minutes into the game, but the Midshipmen went on an 18-2 run fueled by a pair of three-pointers by Kendall Knorr (Fr. / Concord, N.C.) and one by Phil Guglielmo (Fr. / Springfield, Va.) to grab a 24-8 lead with 6:50 to play in the first half.
Navy would stretch the lead to 17 twice in the first half, the last time coming at 33-16 on a James Loupos (Jr. / Skillman, N.J.) tip-in with 1:34 to play, before settling in for a 35-20 halftime lead.
After Venturini's three trifectas pushed Navy's lead to 44-20 with 16:26 to play, Delaware State used a 29-15 spurt over 14 minutes to cut the lead to 59-49 with 2:40 to play, but the Midshipmen made their last three field goal attempts and the lead never dipped below 10 points for the final 29 minutes of the contest in the 63-53 Navy victory.
"Brandon gave us a lift and that is important for us. He needs to play with confidence and he made some big shots for us," said DeChellis. "I didn't like the last four minutes defensively. I thought we were really soft and were playing with a `not to lose' mentality, and that is something we need to get fixed."
Navy would shoot 24-of-53 (.453) from the field, 7-of-16 (.438) from three-point range and 8-of-11 (.727) from the free throw line. The Mids outrebounded Delaware State, 36-30, and were guilty of 11 turnovers.
Navy was whistled for just eight fouls, tied for the second fewest in a game in school history, and fewest since Nov. 28, 1986 vs. Utica (7).
Delaware State shot just 20-of-56 (.357) from the field, 6-of-26 (.231) from three-point range and 7-of-10 (.700) from the free throw line.
"We spoke about our rebounding and that we were going to have to do a good job on the boards today. I hope that is something we can build on," said DeChellis. "Our guys have really paid attention to the scouts and what we want to do defensively. Rebounding and defense has to be our staples. We are going to have to do those things to be successful this year."
Venturini led Navy with 14 points, three rebounds and two assists while Tilman Dunbar (Fr. / Fairfax, Va.) added 11 points and four rebounds. Knorr and Guglielmo added eight and seven points off the bench, respectively.
Navy freshmen scored 31 of its 63 points today, while the bench contributed 22 points. Navy outscored the much-taller Hornets, 20-12, in the paint.
Kendall Gray led Delaware State with 13 points, seven rebounds and four blocked shots.
Navy returns home to face IPFW on Wednesday night at 7:00 PM at Alumni Hall. The game will be streamed online at NavySports.com and fans can listen to the game on WNAV (1430 AM, 99.9 FM, wnav.com) with Pete Medhurst and Michael Heary on the call courtside.
# GO NAVY #