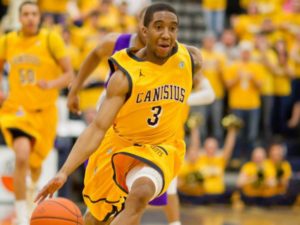 BUFFALO, N.Y. – The Canisius College Ticket Office has announced that the men's and women's basketball doubleheader, scheduled for Saturday, Nov. 17, in the Koessler Athletic Center is sold out. The day will begin with the women's team playing host to Bucknell at 1:30 p.m., before the Canisius men's team takes on long-time rival St. Bonaventure at 4 p.m.
The ticket office also announced there is a chance a limited number of tickets could become available on Friday, Nov. 16, but that will only happen if tickets are returned. If any additional tickets become available, they will be sold on a first-come, first-served basis, starting at 1 p.m. on Friday. Please be sure to check GoGriffs.com, Twitter.com/GoGriffs and Facebook.com/GoGriffs for potential ticket sales updates.
This will be the 12th sellout of the Koessler Athletic Center for basketball since the facility was renovated prior to the 2002-03 season.
Canisius students with a valid student ID are still able to pick up their tickets in the C-Block Office. The C-Block Office is open from 10 a.m. to 5 p.m. on Thursday and from 9 a.m. until noon on Friday. Students are reminded that they must have a ticket to gain admission into the Koessler Athletic Center.