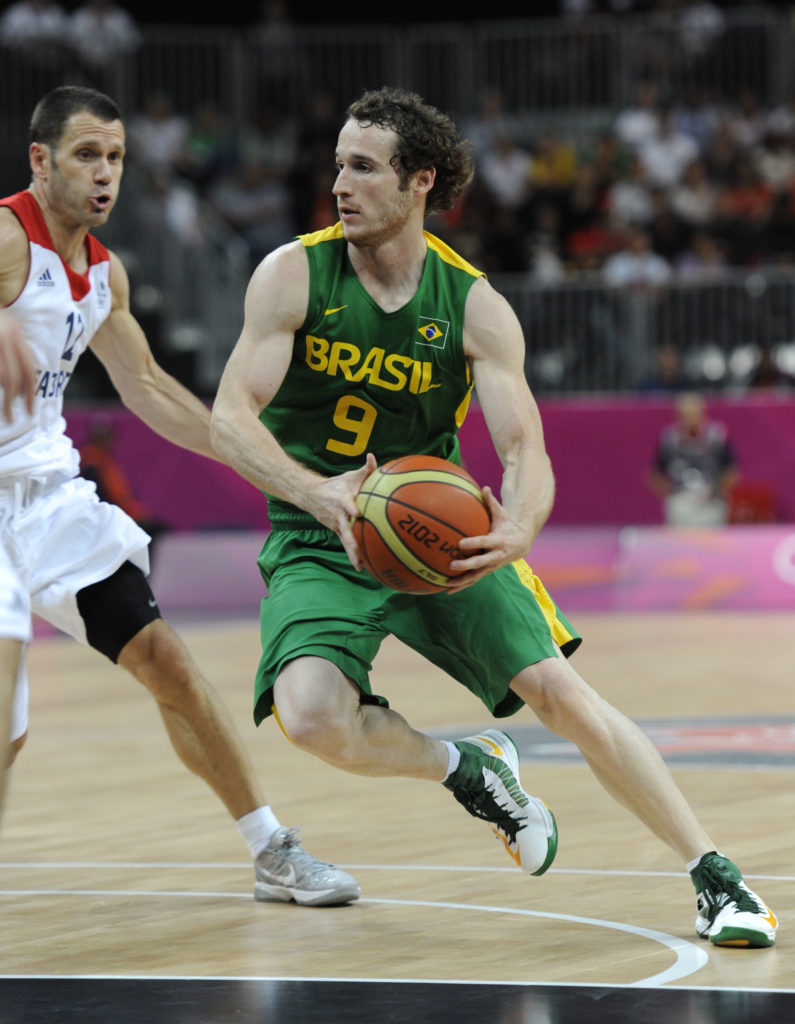 by Patrick 'Rey' Reynell
In Group B play today, host Great Britain (FIBA ranked #43) is still seeking its first win on home soil in these 2012 Olympics while Brazil (FIBA ranked #13) moved closer to the medal round with a 67-62 victory.
The first quarter left much to be aesthetically desired as both teams shot poorly (Brazil 2/20, Great Britain 4/15). Great Britain seemed determined to provide its home crowd a better showing by sticking to their offensive game plan and overcoming many unforced turnovers. Despite the basketball's reluctance to cooperate at times, Great Britain looked a little more committed offensively.
Running a basic motion with cuts through the lane and screens away from the ball, Britain consistently got the ball to its star, Chicago Bulls' forward Luol Deng, who made countless plays when the defense broke down as evidenced by his 4 assists in the first half.
When able to isolate big men Dan Clark or Joel Freeman on the low block, Great Britain cleared out and both big men found success with one-on-one post moves against Brazil's Anderson Varejo, though Clark proved more consistent on 3-4 shooting in the first half.
Brazil's offense became more and more stagnant as the period seemed to wane without a basket. Opting for more of a dribble-drive and kick-out game for three point attempts (none of which fell for the Brazilians who shot 0-8 from beyond the arc in the first quarter), Great Britain took advantage 11-4.
The second quarter proved vital in momentum, as Brazil slowly, methodically seized it back from the Brits. Gone was their stagnant offensive flow centered around guards who just didn't seem to create anything on the perimeter. In came the Brazilians' distinct, NBA-sized inside advantage.
Led by current NBA players Tiago Splitter (Spurs), Nene Hilario (Wizards), and Anderson Varejo (Cavaliers), Brazil's offense opened up.
On post-entry passes, Brazilian perimeter players opposite the ball filled the lane hard on cuts, forcing Great Britain's defense to adjust while opening more opportunities either on the shot or pass from the post.
Brazil shot a blistering 61% from the floor in the second quarter, which should be accredited to the combination of Splitter and Nene. Though Splitter's stat line seemed the more impressive (8 points at the half on 4-6 shooting), it was Nene's (0 points by halftime) constant positioning on the low block and short corner, along with his exceptional vision and passing abilities from both spots, that forced Great Britain's adjustments and brought some fluidity back to the Brazilian offense.
The duo proved vital in Brazil's 23 point second quarter where all of their points except for one three pointer came from inside the paint. Brazil's newly revitalized offense allowed them to draw even at the half 27-27.
In the second half, Marcelinho Huertas continued to take British guards off the dribble and get into the lane, a strategy conveniently opened up by his post-entry feeds through the second quarter. He continued his best Tony Parker impersonation in the third quarter by scoring two nice floaters in the lane.
Anderson Varejo's entrance to the game late in the third quarter garnered Brazil's biggest lead of the game. He finished the third quarter scoring off a nice shot fake and take to the basket with his left, adding a similar basket to start the fourth. Brazil's biggest lead remained shortly at 50-43 until a three pointer by Clark and mid-range jumper by Nate Reinking cut it back to only 2.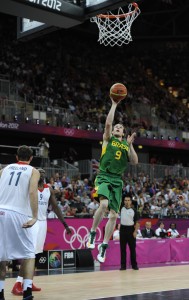 Nate Reinking took advantage of a double team in the post and hit a wide open three to surrender the lead back in the home country's favor 51-50. After a Splitter rentered at 7:43 and promptly scored on an offensive put back, Huertas then converted yet another runner in the lane. Great Britain was forced to take a timeout with the score now 54-51 in favor of Brazil.
After the timeout, Great Britain regained the lead off of two Luol Deng three pointers. With the score 57-56 now back in favor of the Brits and the home crowd now feeling its star is ready to rise, Brazil called a timeout of its own.
Huertas quickly got into the lane and assisted to Splitter for an easy two. As Brazil took to now pushing the ball up the floor, Huertas found Marcus Vieira for three to swing the lead back to Brazil 61-57 with just under 3 minutes left in the contest. A game of momentums, it was clear that the team with the last haymaker might walk away with it. Unless, of course, one of the opponents slipped and fell in ring.
Great Britain continued to leave itself vulnerable in knocked itself out with late turnovers (18 total). When it seemed clear that Clark would have inside position and easy basket after facing up in the high post, the ball slipped out of his hands and out-of-bounds. Coupled with a previous turnover by Deng, they saw their opportunity pass them and remain two possessions behind.


The back-breaker came on a long rebound tipped out from Great Britain's basket. Huertas was able to chase it down and make a timely no-look pass between two British defenders to a streaking Nene for a one-handed dunk. Nene was fouled but missed the free throw. Brazil led 63-57 with 1:15 left.
After a Nene goaltending call, Huertas took control of the ball and allowed the shot clock to run down past 5 seconds. Splitter came up for a high ball screen. Huertas, who had been doubled by Great Britain on ball screens in the second half, reverse dribbled drawing both defenders and hit a slipping Splitter at the rim for an easy basket.
Fittingly, Huertas finished the game taking Deng off the dribble on a designed isolation, drawing the foul and hitting both free throws to seal the victory for Brazil 67-62. The game perhaps turned in that second quarter when Brazil's point guard started to utilize his spin dribble and willingly get into the lane. Great Britain made little to adjust to Huertas' dominance.
Great Britain dropped its second game, though an improvement from its previous 20-point drubbing by Russia.
Thiago Splitter led all scorers with 21 points. Huertas added 13 points to go along with his team high 7 assists.
Great Britain was led by Pops Mensah-Bonsu and Nate Reinking's 13 points apiece. Deng suffered through a poor shooting performance (3-13 from the field, 4-8 from the free throw line) to finish with 12 points.
Deng managed 8 assists to lead all players. It was Deng's play through a poor shooting game that kept the Brits close, perhaps a silver lining for a team now 0-2 with three games left. It looks as though Great Britain will have to finish ahead of fellow 0-2 group members China and Australia if it hopes to qualify for the medal round.
Brazil, Spain, and Russia all sit atop Group B at 2-0.
Next Games: Brazil will face fellow 2-0 team Russia while Great Britain will play France. Both games are Thursday.