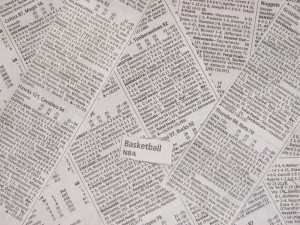 By Kyle Soppe
With yet another dreadful performance, the Bobcats are two losses away from entering the record books as the worst team (in terms of winning percentage) in NBA history. It was the second time in two weeks that they played the second worst team in the NBA (Washington), and the second time they were beaten by 28 points. Down by 24 at the intermission, this game wasn't even as close as the 101-73 score would lead you to believe.
John Wall, who by all accounts has had a bit of an underwhelming season, single handedly out-assisted Charlotte, 14 to 12.
Washington had 10 players shoot a better percentage than the Bobcats did as a team (34.2%).
The Wizards are far from a strong interior team, but they were superior compared to Charlotte. The Wizards, who start two players on the inside that the casual basketball fan won't recognize (Jan Vesley and Kevin Seraphin) pounded the glass for a +10 margin in rebounds and a 30 point advantage in the paint.
Washington connected on 27 field goal attempts in the first half, while it took the Bobcats 48 minutes to make 25.
Where to begin with Charlotte and their 21 game losing skid. The stat of last night came when comparing their futility to the Spurs dominance. San Antonio has won 19 of their last 21 games, while the Bobcats have won 19 quarters in their last 21 games.
The Bobcats actually outscored the Wizards by 6 points from behind the arc and 12 points from the free throw line. Their problems came from closer than 23 feet and 9 inches, where they were outscored by 46 points. Keep in mind that this Wizards team has won 19 games all season, and will be drafting second in this summer.
Charlotte lost the first quarter by 9 points, despite making 40% of the field goals that they would make for the entire game in the first 12 minutes. There are plenty of ways to say it … this team is as bad as any we have seen. Ever.
Tickets to this game cost $1.00 … and those in attendance didn't get their moneys worth. My best wishes go out to Anthony Davis, who very well could have played with more talent this past year than next.