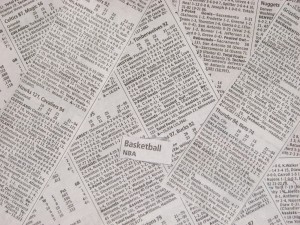 By Kyle Soppe
The Golden State Warriors performed admirably without most of their starters, but still came up short against the Rockets by a final tally of 99-96.
The Warriors were the team playing without regulars, but it was Houston who saw the most increased production from their players. Six Rockets eclipsed their season average in points, led by Courtney Lee. Lee recorded his third 20+ point performance in April, matching the number of 20+ point games he had all season prior to this month. He may not be the first name that comes to mind when you think of 3 point specialists, but Lee has attempted multiple three pointers in 34 of his last 35 games.
Marcus Camby, who stands 6'11", recorded more assists than points last night. For most big men, this would be a shocking stat, but it was the 17th time this season in which his assist total has met or exceeded his scoring output.
It is said that a good defense guards the rim, and chases their opponents off of the three point line. NBA teams want a dunk or a three pointer, so the goal of defense is to make them settle for the lower percentage 2 point shots. Somebody should inform the Warriors of this not so revolutionary idea, as they were outscored by 14 points in the paint and 15 points from behind the arc. The Rockets held the Warriors to mid range jumpers, and it is no surprise (based on percentages) that they won this game.
Coming into the season, the Warrior faithful was excited about seeing their explosive backcourt of Monta Ellis and Steph Curry light up the scoreboard, with Dorell Wright providing the occasional big time performance. Well, none of the players were active last night (Ellis was, but in Milwaukee), but the back up back court filled the void nicely. Rookie of the year candidate Klay Thompson teamed up with Brandon Rush and Charles Jenkins to score 61.5% of Golden State's points. The active trio also managed to snag 44.4% of the teams rebounds, as Golden State outscored Houston by 3 points when at least one of these players was on the court.
The three rules of winning in the NBA: consistency, consistency, consistency. To say the Warriors lacked that last night would be a vast understatement. Every quarter featured at least a nine point swing in their points scored, including an insane 18 point drop off from the second to third quarter. Houston didn't record a single quarter with a nine point difference than the quarter before, as their offense was consistently effective. Again, settling for mid range jump shots will have this effect on a team, whereas the dunks and three pointers tend to add up at a similar pace.
Jeremy Tyler (the kid who elected to surpass his senior year of high school in order to get paid for play over seas) was the only starter, on either team, to shoot over 50% from the field.
The lead switched hands 6 times in this game, but the Warriors never led by more than a point.