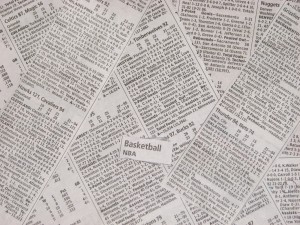 By Kyle Soppe
The "Ray Allen off the bench" era started last night in Chicago, but failed to initiate enough of a spark, as the C's fell 93-86.
Carlos Boozer and Luol Deng are taking the bull by the horns with Derrick Rose still sidelined, as they carried the Chicago to a second half comeback. Boozer tallied more rebounds than points for the second time in three games, a feat he hadn't accomplished in the seasons first 53 games.
Deng poured in a season high in points (26) and steals (4). While the points are at a premium with Rose out, defense continues to win the in NBA. The Bulls are 11-1 in games in which their all star forward records multiple thefts.
Joakim Noah, not exactly known for his efficient offensive game, was the lone player to shoot better than 50% from the field. Speaking of Noah, he combined with Deng to sink 15 free throws, the same number the Celtics hit as a team. He also blocked more shots (3) than Boston did (2).
The Celtics led by 11 at the half, and by as much as 13, but were exposed defensively in the third quarter. The Bulls starting five outscored the Celtics starters 27-13 in the period, allowing the Bulls to seize control of the game.
Looking to teach a young kid to pass the ball? Watch a game with Rajon Rondo, and you've got a 40 minute crash course on perfection. The Boston point guard has recorded 15 straight double digit assist games … 15! Compare that to a guy like Jameer Nelson, who is seen as a pretty solid point guard, who has three double digit games this season. Rondo proves on a nightly basis that you can impact a game in many ways besides scoring points. His longest streak of consecutive games in which he has scored double figures? 3 games.
Ray Allen came off of the bench in this game, something he has only done in 0.44% of the time in his storied 15 year career. He played more minutes than his replacement Avery Bradley, making this appear to be an effort to let RayRay watch the first few minutes, and hope that he is more productive in the games last 35 minutes instead of the first 35 minutes. But can a 15 year starter switch roles that quickly?