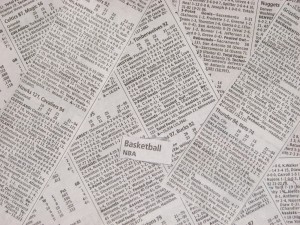 By Kyle Soppe
In an age where many teams believe on building a team around a "Big 3", the Spurs are succeeding the old fashioned way; by building a  great, top to bottom. Every member of the Spurs played a role in a Tuesday night blowout of the Cavs, as the visitors coasted to a 125-90 win.
The Spurs "Big 3" accounted for only 26.4% of the teams points.
San Antonio scored at least 30 points in three quarters, and won every quarter.
For the Spurs, it's quality over quantity when it comes to field goals. They attempted one fewer than the Cavs, but made 14 more.
While the Spurs may not have an intimidating front line, they pounded the glass hard last night, out rebounding Cleveland by 19. Their control of the paint didn't stop there, as they scored 28 more points from close range than the Cavs.
Manu Ginobili seems to be rounding into form at just the right time. Coming off the bench, he tallied seven points, six assists, and six rebounds in less than 19 minutes of action.
I'll give you four guesses as to who led the Spurs in assists, and you won't get it right … answer at the end of the article.
Cleveland showed off their own balanced scoring attack, putting seven players in double figures. Only two of those players average in double figures, so it is surprising that the Cavs couldn't keep this game close.
Their highest scoring quarter (27) was outscored by the Spurs lowest scoring quarter (28).
Kyrie Irving was held to 33.3% shooting from the field, and 28.6% from three point land. Irving is at his best when attacking the rim off of the pick and roll, but the spurs limited his ability to get in the paint, and thus shut him down.
The teams leading scorer last night (Antawn Jamison) was on the floor for nearly 30 minutes, and the Cavs were -26 over that span. He did connect on all three of his three point attempts, only the second time he has done that this season.
The Cavs have dropped seven in a row, and the offense has disappeared of late. Over the last six games, their highest point total is 85 and the fewest points they have held an opponent to is 87.
The Spurs leader in assists was Boris Diaw.