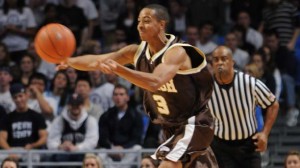 Courtesy of LehighSports.com.
BETHLEHEM, Pa. – The Lehigh men's basketball team looks for its school-record 11th nonleague win on Saturday when it travels to Bryant to face the Bulldogs on New Year's Eve. Tipoff is set for 1 p.m. The Mountain Hawks look to finish a season sweep of the NEC as the squad has defeated Fairleigh Dickinson, Quinnipiac, Saint Francis (Pa.) and Wagner thus far.
Following a 90-81 loss at #19/20 Michigan State, Lehigh bounced back with a 76-67 victory over Saint Peter's on Wednesday. The Mountain Hawks fell down 10 early (30-20), but used a 14-4 run to tie the score heading into halftime before opening up an 11-point lead of their own in the second. Junior C.J. McCollum led the way with 22 points and 11 rebounds for his 14th-career double-double and first this season while junior Holden Greiner followed up his Michigan homecoming with a 19-point effort, including 4-of-7 from three-point range. McCollum has continued his stellar all-around play, dishing out a game-high five assists, his second straight five-assist game. He now has 19 total helpers over his last four games and is up to a team-leading 49 on the season (3.5 average), fourth in the Patriot League.
The win came over a Saint Peter's squad which won the MAAC a season ago to advance to the NCAA Tournament. Lehigh is now 1-2 on the season against reigning NCAA Tourney squads, losing close contests at St. John's (78-73) and Michigan State (90-81).
Two Mountain Hawks are rapidly approaching career milestones as McCollum enters Saturday only eight rebounds away from 500 while Greiner is 23 away from 500 points. They will try to reach those plateaus against a Bryant squad, which has hung tough through a quality schedule against numerous power programs. The Bulldogs feature junior Raphael Jordan, brother of Lehigh Director of Basketball Operations T.J. Jordan.
Bryant has struggled, going 1-11 thus far with its lone win coming 70-63 against UC Davis. That came in the second game of the season as the Bulldogs have dropped 10 in a row since. The Bulldogs have played numerous marquee games at San Diego State, Notre Dame, Providence, Boston College and Arizona. The squad has been in some tight contests, including losses at Dartmouth (66-62), at Army (69-66) and a tight 72-61 defeat at Providence from the Big East. Alex Francis leads the way in both points (17.3) and rebounds (7.4) while Corey Maynard (13.7) and Frankie Dobbs (12.6) are also averaging double figures . The three have combined for 43.6 points per game this season, accounting for 69 percent of the team's 62.9 average.
The Mountain Hawks return home on Jan. 3 to host the University of Maryland Eastern Shore in their final game before opening Patriot League play on Jan. 7 at Holy Cross. Tickets for all home games are now on sale and may be purchased on Lehighsports.com or by calling the ticket office at (610) 7LU-GAME