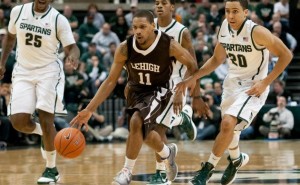 JERSEY CITY, N.J. – Down 10 in the first half, the Lehigh men's basketball team rallied to tie the score at halftime before taking control in the second as the Mountain Hawks downed the Peacocks, 76-67, on Wednesday evening. Junior C.J. McCollum led the way with 22 points and 11 rebounds, his 14th-career double-double. The win improves Lehigh's record to 10-4, tying the school record for most non-league victories in a season.
"Saint Peter's came out and played with a great deal of energy," said Lehigh head coach Brett Reed. "They took it to us. We didn't have a lot of great answers for them at that point; we were on our heels. Fortunately, we were able to make enough adjustments and guys were able to make enough personal stops that it was able to change the tide and the complexion of the game, particularly in the second half."
The win came over a Peacocks squad who won the MAAC Championship a season ago to advance to the NCAA Tournament.
Just one game after setting a career-high 24 points in his homecoming at Michigan State, junior Holden Greiner also shined with 19 points, including two big three-pointers to end the first half. Junior Gabe Knutson chipped in with 10 while nine different Mountain Hawks finished with a point. A pesky Saint Peter's squad, which wouldn't say quit, saw four different players reach double figures.
Lehigh jumped out to a quick lead behind a Knutson post move followed by a Greiner three-pointer less than a minute into the game. Saint Peter's registered its first points with 17:47 remaining, which began eight straight points to make it 8-5 Peacocks following a pair of Chris Prescott free throws with 15:44 on the clock.
Saint Peter's opened a 16-10 advantage, but Knutson responded with a three-point play to cut it to 16-13 with 12:31 remaining in the first half.
The lead grew to 26-18 lead after a Markese Tucker layup with 8:26 remaining, but McCollum grabbed the offensive rebound and converted a pair of free throws to keep the game within two possessions.
Lehigh fell behind 30-20 with 6:46 to go, but the Mountain Hawks responded with a 14-4 run to tie the score at 34 heading into the half. A three-pointer from senior Jordan Hamilton with 3:26 to go pulled Lehigh within 32-26, then after a Lamin Fulton jumper made it 34-28, but Greiner knocked down two straight three-pointers, including one with nine seconds remaining, to tie the score at the half.
Greiner continued his hot play early in the second, scoring five of Lehigh's first seven points to help the Mountain Hawks open an eight-point lead. Sophomore Mackey McKnight wrapped up the run with a nifty three-point play, then a layup to make it 46-38 with 16:05 remaining.
A McCollum four-point play with 14:15 on the clock gave Lehigh its first double-digit lead, 50-40. McCollum later added a steal near center court and went in all alone for the emphatic dunk to make it 54-44.
Saint Peter's responded with a mini 7-1 run to quickly pull within four, 55-51, but Lehigh came right back with baskets from Greiner and McCollum to go back up eight. The Mountain Hawks opened up their largest lead of the game, 11, as a pair of Knutson free throws made it 65-54 with 6:17 remaining.
The Peacocks eventually clawed their way back within six at 71-65, but it was a Greiner blocked shot that proved a big momentum swing. With Lehigh up 70-63, Blaise Ffrench was sprung in all alone for a layup, but Greiner came out of nowhere to make the block and keep the Mountain Hawks up three possessions.
Lehigh held on down the stretch as McCollum and freshman Corey Schaefer combined to hit four free throws in the final minute to wrap up the 76-67 victory. Schaefer impressed with six points off the bench on a perfect 6-of-6 from the charity stripe.
Lehigh finished at 48 percent from the field (22-of-46) and 44 percent from three-point range (8-of-18) while Saint Peter's was also 48 percent (29-of-60) and 24 percent from long distance (4-of-17). The Peacocks won the battle of the boards, 32-30.
The Mountain Hawks will head to Bryant on Dec. 31 before returning home on Jan. 3 to host University of Maryland Eastern Shore. Tickets for all home games are now on sale and may be purchased on Lehighsports.com or by calling the ticket office at (610) 7LU-GAME.