Courtesy gobonnies.com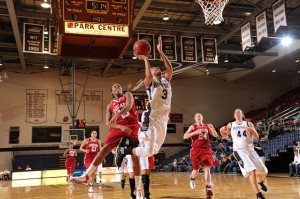 WEST LONG BRANCH, N.J. – St. Bonaventure (11-2) shot just 28.1 percent from the floor as Villanova (10-2) secured a 55-44 win over the Bonnies Thursday afternoon in the opening round of the Monmouth University Hawks Holiday Classic.
Playing without senior Megan Van Tatenhove – a Preseason First Team Atlantic 10 selection – for the third time in the last four games, the Bonnies scored just nine points through the first 14 minutes of the second half.
Sophomore Doris Ortega finished just shy of her first career double-double with nine points and a career-best 11 rebounds. Juniors Alaina Walker and Chelsea Bowker each added seven as the Bonnies failed to place a player in double-figure scoring for the first time all year.
With Villanova maintaining a one-point lead, 31-30, with 13 minutes left, the Wildcats went on an extended 17-2 run spanning nine minutes to put the game out of reach. During that stretch, they held the Bonnies without a field goal as the two points came from the free-throw line.
After shooting just 30 percent (9-30) in the first half, Villanova connected at a blistering 57.1-percent clip in the second frame (12-21). On the other side, SBU made just 3-15 3-point attempts (20 percent), including an 0-for-8 performance from Jessica Jenkins – just the second time this year she has failed to make a 3 in a game.
Laura Sweeney led Villanova with 16 points, 13 of which came in the second half as the Wildcats claimed their fourth win over an A-10 school this season.
'Nova held a 12-10 lead at the 12-minute mark of the first half, but the Bonnies went on a 10-0 run and held the Wildcats without a point for nearly eight minutes as they opened up a 20-12 advantage.
However, Villanova responded with a 10-2 stretch to close the half, and for the first time this year the Bonnies found themselves in a tie game at the half, 22-22.
St. Bonaventure will face Norfolk State in the consolation game Friday, at 2 p.m. It will be the first meeting between the two schools. The Spartans lost to host Monmouth in the first game, 69-62.
Game Notes: In each of their previous 12 games, SBU had at least two players in double-figure scoring … in the game following Jenkins' 0-for-5 effort from 3 at Kent State, she knocked down five triples at Binghamton … sophomore Ashley Zahn hit two 3-pointers in the final 30 seconds to finish with a season-best six points … SBU won the battle on the glass, 41-33 … 'Nova finished with 21 assists and just nine turnovers … Walker played just 17 foul-plagued minutes, but pulled down five boards in that time.