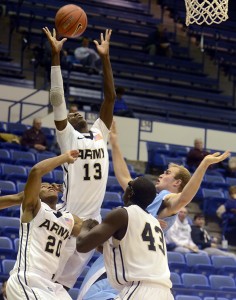 WEST POINT, N.Y. – Julian Simmons' three-pointer with 1:51 left capped a 10-1 run that brought Army (5-7) back from a six-point, and the Black Knights hung on for a 67-64 win over Dartmouth (3-9) on Wednesday afternoon at Christl Arena. The Black Knights led by as many as 11 in the second half.
Army has won two straight, its first back-to-back wins since January of last season.
Army led 43-32 with 13:51 to go, but Dartmouth scored the next nine points to trim the deficit to just two points. The Black Knights were able to stretch their lead back to five, but again the Big Green had an answer, scoring 17 of the next 23 points to claim a 58-52 lead with 4:30 to go.
Simmons started Army's comeback with his first three-pointer to cut the lead in half, and junior F Ella Ellis brought the Black Knights within one at 58-57 with a pair of free throws with just less than three minutes to go. Dartmouth made one of two free throws to take a two-point lead, but Ellis tied the game at 59-59 with 2:18 to go. After a Big Green miss, Simmons buried his second three-pointer to put Army on top 62-59, a lead it would not relinquish. The Black Knights made five of their six foul shots, three by Pancoe and two by Simmons, in the final 37 seconds to ice the win. Simmons drained a pair with eight seconds to go that set the final three-point margin.
Dartmouth had one final chance, but Jabari Trotter's three-point try drew iron as the buzzer sounded, sealing the Army victory.
Ellis and Pancoe each scored 20 points. It was Pancoe's first career 20-point effort and the first time Army had two players score at least 20 in the same game since Ellis (22) and Jeremy Hence (26) did it against Bucknell in last year's regular-season finale. Pancoe hit 7-of-9 shots, including a 3-for-4 day from the three-point line, grabbed four rebounds and handed out four assists while committing only one turnover in 30 minutes of work. It was Ellis' fourth 20-point game of the season and his second straight 20-point outing.
Simmons rounded out Army's top scorers with 13 points, including eight during Army's comeback. Junior F Jordan Springer grabbed a team-high seven rebounds.
Dartmouth had five players in double figures led by R.J. Griffin's 15 points. Griffin hit four of the Big Green's 12 three-pointers. Jvonte Brooks had 13, while Trotter, John Golden and Mack McKearney each had 10. Gabas Maldunas led all players with nine rebounds.
Army rebounded from a 33.3 percent shooting effort in the first half to hit 41.2 percent of its shots for the game. The Black Knights held a distinct advantage at the foul line, hitting 17-of-21 attempts, while Dartmouth made just eight of their 17 free throw tries.
Pancoe and Ellis combined to shoot 66.7 percent (12-18) overall and 55.6 percent (5-9) from three-point range. The rest of the team was 9-for-33 (.273) overall and 3-for-11 (.273) from deep.
Both teams combined to miss their first five shots before Trotter started the scoring with a three-pointer to put the Big Green on top with 18:23 to go. Sophomore G Josh Herbeck answered with a three of his own to tie the score, but the Big Green regained the lead at 5-3 on a jumper in the lane by Brooks. Army scored the next five points to take its first lead of the game and extended their advantage to 11-7 on Pancoe's second three-pointer of the half with 15:09 left in the opening period.
Army went cold from the field, missing its next six shots as Dartmouth scored the next 10 points to take a 17-11 lead with 10:59 left. A pair of free throws by Ellis stopped the run and started a 10-0 run by the Black Knights that pushed them back in front by four at 21-17 with 8:04 to go. Pancoe scored five during the spurt and Simmons added an old-fashioned three-point play.
Dartmouth answered with five straight points to go back on top at 22-21 with 4:34 left in the half. Ellis drilled his first triple of the half to put Army back in front.  Griffin hit his second straight three to swing the lead back to the Big Green and start a 6-0 run that made the score 28-24 with 6.3 seconds left. Army missed both its field goal tries and turned the ball over three times during the run. Dartmouth missed the second of a two-shot foul, and Simmons was able to secure the rebound. He handed off to Pancoe who raced up the floor and hit a pull-up jumper as time expired to send the Black Knights into the locker room down just two points, 28-26.
Pancoe led all players with 13 points in the first half, including three three-pointers. Trotter and Griffin led the Big Green with seven points each.
Army was 5-for-11 (.455) from three-point range in the first half, but made only four of its 16 (.250) shot attempts from inside the three-point line. Pancoe was 5-for-5 from the field in the first half, while the rest of the team was 4-for-22 (.182).
Griffin scored the first basket of the second half to put the Big Green on top by four, but Army reeled off a 15-2 run, including six by Ellis, to take a 43-32 lead with 13:51 left. Springer capped the run with a three-point play after an emphatic dunk.
David Rufful started the Big Green comeback with a three-pointer from the corner. Dartmouth scored nine points on three-straight possessions. A pair of three-pointers as the shot clock expired also aided the Big Green effort.
Wednesday's game marked the eighth time in the last 18 meetings between the two teams that the margin of victory has been three points or less.
Army takes a week-long break for the holidays before traveling to Clinton, S.C. to take on Presbyterian on Wednesday, Dec. 28. Tip-off is set for 7 p.m. The Black Knights lost their only other road game versus the Blue Hose, a 53-32 defeat on Jan. 8, 2008.
Game Notes: Jason Pancoe scored in double figures for the first time this season … Josh Herbeck has made at least one three-pointer in every game this season … Dartmouth was also involved in Army's last set of back-to-back wins. Army defeated the Big Green in last season's non-conference finale before defeating Colgate to start the Patriot League season … Pancoe now boasts a 23-6 assist-to-turnover ratio (3.8) … Ella Ellis moved passed Cleveland Richard into 13th place on Army's all-time three-pointer list (84) … Six of Dartmouth's nine losses have been by six points or less … Army is now 25-22 in their last 47 games decided by six points or less and/or in overtime … Army has seven wins in the last three seasons when trailing at halftime. The Black Knights had lost 16 such games in a row entering the 2009-10 season … Wednesday's win was Zach Spiker's 30th win at West Point.