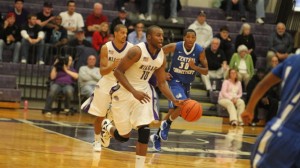 NIAGARA UNIV., N.Y. – The Niagara men's basketball team was unable to hold on to its six-point halftime lead in a 71-58 defeat to the Drexel Dragons on Tuesday night at the Gallagher Center.
The Purple Eagles (4-7) took a 37-31 lead into halftime, despite trailing 11-3 after four minutes of play. Marvin Jordan scored Niagara's first eight points, but it was a Juan'ya Green layup at 10:50 in the half that sparked NU's charge. Niagara grabbed its first lead in the game, 27-24, when Green dished a pass to Ali Langford who drained a 3-pointer at 4:14 to cap a 19-7 run.
Niagara scored 10 of the final 15 points in the half, including back-to-back 3-pointers by Green and Jordan, but a 3-pointer by Drexel (4-4) in the final seconds cut NU's lead to six at halftime.
"We had them in a good spot, we were up nine in the first half," head coach Joe Mihalich said. "We needed one stop; one play doesn't win or lose the game, but that was a big shot they hit at the end of the first half. It takes it to nine to six and lessens the sting. We just didn't execute defensively."
Scooter Gillette scored the opening points in the second half, but Drexel clamped down defensively to hold the Purple Eagles without another field goal for over 14 minutes. Drexel outscored NU 29-7 during that stretch.
NU went on a 12-4 run at the five-minute mark to cut the lead to 67-59 with 2:25 left, but it was the closet the Purple Eagles would get.
"Sometimes the best teachers can be the other team and the worse thing we can do tonight is not learn from the team we played against," Mihalich said. "The best thing we can do is learn from the other team learned. The other team realized they had to get a lot tougher, they had to win the 50-50 battle and had to play defense and they did."
Green, the MAAC leading scorer, led NU with 22 points and had a game-high three steals. Antoine Mason was second in scoring with 13 points and Jordan followed with 11 points, a team-high five assists and career-best eight rebounds. Drexel's Chris Fouch led all scorers with 24 points.
Niagara is next in action on Thursday, Dec. 22 when the Purple Eagles visit Quinnipiac for a 7 p.m. contest.