by Wally
Every time I catch a glimpse of Detroit's Justin Verlander pitching, I can't help being reminded of Nolan Ryan.   What a treat it is to watch him throw a baseball and whiff a batter just about every inning!   But it's a combination of things that make me think of the Ryan Express.    At 6'5″, 225 lbs, he's got about the same build as Ryan.   He's got a smooth, yet powerful and technically sound leg-driven delivery … just like Ryan.   A GREAT, lively fastball often delivered at 100 mph and maybe most importantly, a knee-buckling Uncle Charlie curveball with a sharp 12-to-6 downward break … both say "Nolan Ryan" to me.    Then you go to Verlander's demeanor … confident bordering on cocky, but completely under control.   Now, mind you, I'm talking about comparisons to the mid-late career Ryan who had command of his pitches and limited his walks.   But the resemblance is simply uncanny.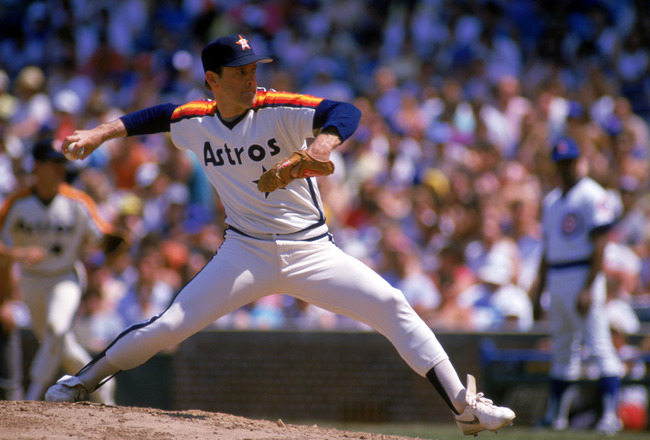 And so are the results.    Verlander is only 28 and he's won 93 games with a 3.65 career ERA.   And he's simply getting better and better.  This season, he's 10-3 with a 2.38 ERA and microscopic WHIP of 0.84.   124 strikouts in 128 innings.   Wow!    Of course, he also pitched his second career no-hitter this season and seems to be a threat to do so almost EVERY time he takes the mound.   Again, very "Ryan-esque".      Could he approach Ryan's record of 7 no-no's?   If he stays healthy, he's got a shot.   5,714 strikeouts?   Probably not.   We tend to forget that Ryan, the freak of nature that he truly was, pitched for 27 years!
Anyway, there's a lot of great pitchers out there these days … Halladay, Lee, Lincecum, Beckett, Hernandez, Jurrjens … but I gotta rank Verlander as King of the Hill right now.   Nobody else has the power, the command, the ability to get to the 7th inning without yielding a hit as consistently as this guy.   It's like watching Nolan Ryan in his prime … and I'd definitely pay to see that!